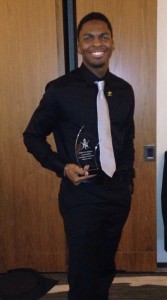 Christian Miller is a junior in biological systems engineering. He is currently the president of the National Society of Black Engineers—Iowa State University chapter and was recently named Most Outstanding President in Region 5 for the 2013-2014 school year. He talks about his experience at the organization's regional conference and the group's recent successes.
On November 15-17, 2013, the Iowa State University chapter of the National Society of Black Engineers attended the Fall Regional Conference in Wichita, Kan. There are six regions within NSBE, in which Iowa State is in Region 5.
We had 10 members from our chapter in attendance. There were many workshops in regards to leadership, professional development and public relations, as well as competitions such as: Engineering Olympics, an elevator speech competition and a business proposal competition.
The conferences are always a lot of fun. It is a great time for our chapter members to bond and get to know one another as well as network with many other students from our region, professionals at the career fair, and graduate school representatives at the graduate school fair.
The most fun, however, is at our Vanguard Awards banquet. At the banquet, we congratulate our peers on their accomplishments and perform our regional, zone, and chapter chants and calls. This is also where I won the award of Most Outstanding President in Region 5 for the 2013-2014 school year.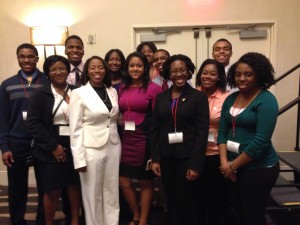 It is an honor to have been nominated by a member of my chapter and to have won this award out of 51 other chapter presidents in my region. This award makes me eligible for the NSBE National Most Outstanding Chapter Chair award and makes our chapter more known for possible Chapter of the Year nominations.
Also in this past year, our chapter was given a recognition award for being the only chapter in the now 'Region 5' to have attended the first NSBE National Convention held at Purdue University in 1975.
I believe we've had a lot of success thus far by developing leaders who are responsible for leading their own team, increasing buy-in by allowing for more input and planning ownership, and challenging our members to be actually involved rather than emptily writing their participation in NSBE on their résumé.