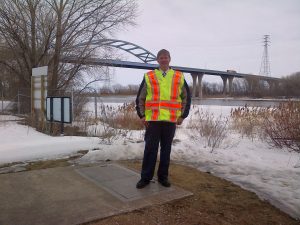 For Brian Roper, being accountable for the design and construction of more than $2 billion in major highway projects is simply part of the job.
It's an assignment he takes very seriously, but it's not something that intimidates him. In fact, he says he's right where he wants to be—in the middle of projects that improve safety, encourage economic opportunity and make travel more efficient for all modes of transportation.
Roper, a 1987 civil engineering graduate, is the project development section chief for the Wisconsin Department of Transportation. He provides management oversight for a $1.5 billion, 31-mile freeway reconstruction and expansion project.  Another $0.5 billion freeway and expansion project will be starting soon. And he also has more routine responsibilities, like managing $40 million annually in design and construction projects that span four counties in northeast Wisconsin.
These major projects, which Roper says are a very visible and important part of the state's plan for growth, require open communication, a lot of foresight, and the ability to be nimble to adjust course if necessary.
"Our customers as well as external stakeholders—the Federal Highway Administration and resource agencies—are all following this work closely. They want to make sure we are on task and the project is going according to plan," he explains.
That's why monthly briefings with the department's secretary and senior leadership in Madison are crucial for the expansion project, and also why he ensures any issues or concerns are escalated and resolved as quickly as possible.
"Our customers gauge our work every time they have an experience, whether it's good or bad, on a roadway," Roper says. "We also have a responsibility to stay on budget and schedule."
As a student, he gravitated toward civil engineering and specifically the transportation specialization because "fundamentally, everything in our society comes back to what we do—roads, buildings, water. Civil engineering is woven into our daily lives. As practitioners, we impact society's quality of life every day."
With a technical foundation that started with his work at Iowa State, Roper says the exposure to a wide variety of specialties in civil engineering has helped more than he anticipated it would as a student, noting that at times that knowledge comes "rushing back when dealing with a project issue."
His career has been a mix of private and public sector experience at the engineering and management level, giving him a unique understanding of the interests and motivations of the different industries.
As he has advanced, he says he advises others to take ownership for their careers and to find the right people to help guide them along the way.
"I grew as both an engineer and a person when I got involved in more challenging projects," Roper says. "Pursing those types of assignments and surrounding myself with a great team along the way has helped put me where I am today."
He also likes to remind engineers that an overreliance on computational data can sometimes be costly. In a paper he wrote with his colleagues called "Black Boxes and the Dearth of Common Sense," the authors share a cautionary, yet humorous, perspective that emphasizes using critical thinking and analytical skills taught during engineering school to assess the information that is coming from computers.
The paper identifies three major "black box-inspired problems," which Roper says are more common sense than anything. "Basically, we need to apply transportation fundamentals, improve communication between office and field staff, and verify results," he explains, adding that it's easy to rely on the data that a computer outputs because we're becoming increasingly used to trusting it as technology saturates the workplace.
The result of overreliance on computational information can be something embarrassing. One such example the paper gives involves an instance when field staff put traffic counters going the wrong way on a major on-ramp.
But Roper says he's more concerned about things like quality control and keeping up with the fast-paced project delivery that is becoming standard. "Sometimes changes come up at the end of a project that are costly because the more traditional review and design process wasn't initially followed," he explains. "When the problems start impacting projects on this level, we know we need to do something differently."
Ultimately Roper says to be skeptical of data if something seems out of place. "When engineers come across analysis or results that don't make sense, they shouldn't try to rationalize why they came out that way. They should consider them incorrect and go back to the drawing board."
With a no-nonsense approach in hand, Roper shares his views when he can with nearly 60 staff members and more than 100 consultants involved in the Wisconsin DOT projects he oversees. He also leads and participates in numerous statewide and regional work groups. In addition, he was on the leadership team for the 2013 Mid-American Association of Transportation Officials meeting in Milwaukee.