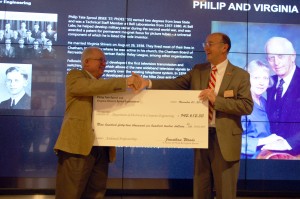 The estate of Philip and Virginia Sproul presented the Iowa State Department of Electrical and Computer Engineering a gift for more than $900,000 to support faculty within the department. Jonathan Woods, nephew of Philip and Virginia Sproul and executor of their estate, presented a check to the department at a ceremony in Coover Hall Nov. 21.
"My uncle (Philip Sproul) established this trust," Woods said. "And he enjoyed supporting it throughout his life."
The gift will be used to establish the Philip and Virginia Sproul Endowed Professorship, which will aid the department in attracting first-rate faculty. The Professorship will fund postdoctoral research assistants, graduate students and numerous research initiatives for the awarded professor.
"Endowed professorships are so important, especially in this funding climate," said David C. Jiles, Palmer Endowed Department Chair and Anson Marston Distinguished Professor. "This gift will support faculty in the department and allow its recipient the freedom to research, innovate and inspire students."
Philip Tate Sproul (1915-2011) earned two degrees from Iowa State and was a Technical Staff Member at Bell Laboratories from 1937-80. At Bell, he helped develop military radar during the Second World War, and was awarded a patent for permanent magnet focus for picture tubes – a now-universal component of radar, of which he is listed as the sole inventor.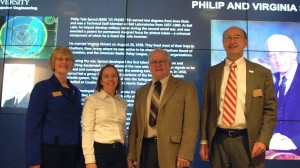 Sproul is a member of the Order of the Knoll at Iowa State, a life member of the Old Guard of Summit, New Jersey, and a Life Senior Member of the IEEE. In addition, he is an Honorary Member of the Iowa State Department of Electrical and Computer Engineering.
"Successful alums giving back to their alma maters create a virtuous cycle," Jiles said. "When our students graduate, become successful, and give back, they help the next generation of students graduate, become successful and give back."
Sproul's previous gift of more than $200,000 allowed the department to establish the Sproul Intellectual Center in 2202 Coover Hall.