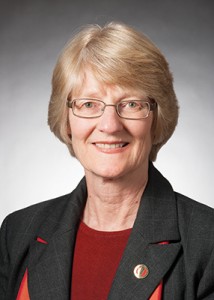 The College of Engineering has many audiences – groups of people to whom we target various types of information, stay connected, receive feedback and collaborate. Examples include prospective students, current students, parents, alumni, donors, staff, faculty and industry. Each of these audiences play a vital role in the success of our college.
We just held one of our college's industrial advisory council meetings, so this group is fresh on my mind. It is extremely important for us to have strong corporate partnerships, and we are fortunate to have their support. Companies that interact with us come from across the United States and range in size from small start-ups to large multi-nationals.
Why are these relationships so valuable? Here are a few reasons:
Industry assists faculty with the education of our students, thus helping us create the kind of engineers that industry is seeking and developing skill sets required for the future.
Businesses make a strong impact by providing student internships and co-ops, classroom lectures, design projects and financial support for scholarships, laboratories and equipment.
Industry is the primary customer for our primary product – new engineers. With a five-year average placement rate of over 95 percent, companies are hiring these bright and talented graduates.
Industry provides funding for faculty and student research that addresses today's grand challenges. These dollars help us service the community – both locally and globally – and use technology to make the world a better place.
Because we value the role industry plays in our college, we have an advisory council made up 25 leaders who provide advice in the areas of strategic planning, broadening participation in engineering, industry-funded research, and other areas that impact both engineering education and research. This group meets biannually with our senior leadership team, faculty and our students.
As engineering dean, it is important that I listen to our industry partners and work with them to enhance the success of our college. I want to make sure that our graduates are positioned to become their future leaders.
As always, I appreciate hearing from you and look forward to your comments. And I would like to extend my best wishes to you and your families for a wonderful holiday season.