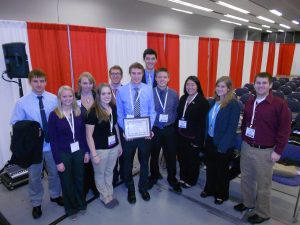 For current members of Iowa State's Material Advantage group, being the Most Outstanding Chapter is all they have ever known. That's because the group has received the title for 10 consecutive years—a trend they want to continue for years to come.
Ben Hagarty, president of the group for 2013-14, says Material Advantage is proud of the honor. "The framework for success is there each year, it just takes hard work and time to make everything happen," he added.
Notified of the award in early October, the team looked forward to attending this year's national Materials Science and Technology Conference, held Oct. 27-31 in Montreal.
Fourteen members from the ISU chapter made the trip, making the group one of the best represented. They spent their time listening to presentations from industry experts on topics that ranged from advanced materials for harsh environments to advances in metal casting technologies. On Oct. 29, they were recognized with a plaque during the annual awards presentation.
The group says offering students a chance to network with their peers, faculty and professionals in the field is part of its core mission. Material Advantage members also attend national conferences, conduct industry tours to companies in Iowa and around the Midwest, and host informational and social events for members and the department.
One new event they held last year was an Undergraduate Research Information Night that was set-up in collaboration with the MSE Learning Community. The event featured presentations from undergraduate researchers from each of the main MSE departmental research labs.
"It was a great opportunity for students to learn about cutting-edge research being conducted by their professors and peers, as well as inform them of open undergrad research positions within the department," Hagarty said.
Material Advantage also maintains a strong community outreach component that extends from campus to the city of Ames. Members do impressive materials demonstrations for events like Engineer's Week, Engineering Senior Visitation and Experience Iowa State. The group also hosts a Pick A Specialty Night and Grad School Info Night to help students decide how they want to move forward with their academic careers. And every December, Material Advantage sponsors a family in need as part of the Ames Holiday Gift Giving program.
"All of these events, as well as ones not mentioned, are part of the tradition of excellence that has been developed over the years by dedicated MSE students," Hagarty said. "In conjunction, I think the activities make us a very well-rounded organization, and I believe that is the key to our success."
He adds that support from faculty and staff in the MSE department, including chapter advisor Scott Chumbley, has been a tremendous help.
"Everyone is always willing to help us out in any way they can. I can guarantee that without such incredible support Material Advantage would not have had the success that we have."