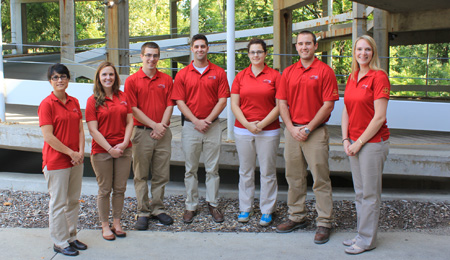 "We are all excited that it's finally here, to get to go to D.C., network with contractors, and present our project that we have all worked very hard on," said Iowa State University construction engineering senior Alex Buscher just days before the 2013 ELECTRI International Green Energy Challenge.
Buscher led a team of five civil engineering and construction engineering students to a repeat top-3 finish Oct. 12 at the ELECTRI International Green Energy Challenge, held in Washington, D.C. The team, who call themselves Team Cyclone Energy, consisted of civil engineering senior Kate Glowacki, construction engineering senior Joe Hahn, construction engineering junior Margaret Holt, and construction engineering senior Alex Toth. These students are part of the National Electrical Contractors Association (NECA) Iowa State chapter. Beth Hartmann, a lecturer in the Department of Civil, Construction and Environmental Engineering, advised the team. NECA teams from throughout the U.S. compete in this green energy challenge.
The team created a written proposal, which earned top score, that describes an energy solution plan for the Iowa State University Memorial Union Parking Ramp. They presented highlights of their proposal to a panel of six judges and placed third overall out of 19 collegiate teams.
Team Cyclone Energy's presentation included an energy plan for the 46-year old parking ramp, including a daylight and occupancy sensor control system, LED lighting systems, electrical vehicle charging stations, and solar canopies on the top level of the ramp. The energy plan estimated total costs at $930,123. The plan has a nine-year payback period and would ultimately save Iowa State $105,246 per year in energy costs. Each team member spent five to six hours per week on the project, using the knowledge they gained from classes such as ConE 353 (Electrical Systems in Buildings).
"One of the biggest challenges has been picking up where we left off last semester and continuing forward," Buscher said. "It was a great feeling once we finally arrived in D.C.– all of our hard work was paying off," Hartmann said. On the day of their presentation, in front of an audience of 300 people, the team presented their 14-minute speech. Glowacki expressed that they felt very confident and prepared for the presentation; however, they had not expected the nature of some of the questions.
Iowa State placed behind runner-up Pennsylvania State University and winner University of Washington. Iowa State repeats its 2012 NECA/ELECTRI International Green Energy Challenge success. This shows the skill, motivation and passion of Iowa State, its students, and its faculty. "We have a lot of fun, it's a great learning experience, and we always get along with each other. I really am proud of how we did," Holt said.
"We practiced for two months straight and had a tough time memorizing our slides at first. But in the end we really came together as a team and presented very well," Buscher said. "I learned more about the industry than I ever could have imagined, we grew as a team, and I got the experience of a lifetime."
CCEE Communications Intern Alex Hagar contributed to this story.