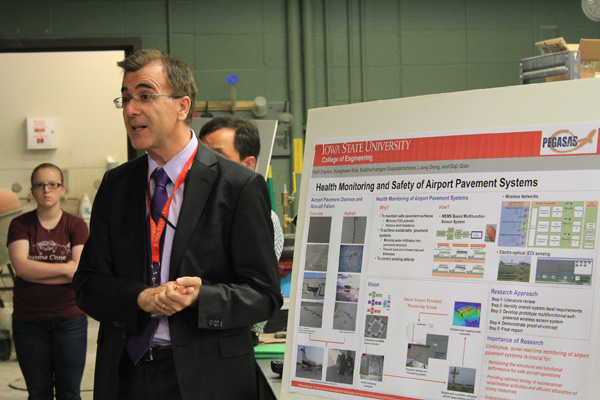 Halil Ceylan, associate professor in civil, construction and environmental engineering (CCEE) and founding director of the program for sustainable pavement engineering and research (PROSPER) at Institute for Transportation (InTrans) at Iowa State University (ISU), works with the Federal Aviation Administration (FAA) to research methods for ice- and snow-free pavement systems on airfield surfaces. The FAA awarded Ceylan and his team funds in August 2013 for this research project. The grant helps promote ISU as a member of FAA Center of Excellence Partnership to Enhance General Aviation Safety, Accessibility, and Sustainability (PEGASAS). For more information about Iowa State becoming an FAA Center of Excellence PEGASAS, read this October 3, 2012, College of Engineering news release.
Ceylan is the lead Principal Investigator (PI) and overall Technical Point of Contact (TPOC) for this project, entitled "Heated Airport Pavements." On this project, a team of ISU researchers joins Ceylan, including Peter C. Taylor (associate director of the National Concrete Pavement Technology Center), Konstantina (Nadia) Gkritza (associate professor, CCEE), Sriram Sundararajan (associate professor, Department of Mechanical Engineering), Kasthurirangan (Rangan) Gopalakrishnan (research professor, CCEE), and Sunghwan Kim (research assistant professor, CCEE). In addition, many graduate and undergraduate students will be working on this project.
Ceylan and his team will employ a two-pronged approach to investigate the efficacy and cost effectiveness of new heated pavement technologies. They will investigate the relative energy and monetary needs to remove snow and ice from paved surfaces by conducting energy and financial viability analyses. A cost-benefit analysis will be performed here; not necessarily to prove that heated pavements are cost effective, but rather to provide a realistic assessment of the true cost, benefit, and return on investment.
A hybrid approach combining an electrically conductive concrete layer with lotus-leaf-inspired super-hydrophobic surfaces will also be investigated. Here, the researchers will develop a hybrid heated airport pavement system that can keep the runway surface temperature above freezing during winter weather operations by combining electrically conductive concrete with nano-structured, super-hydrophobic surfaces. Think of these nano particles as the skin of a lotus leaf. "Even though the leaf sits upon the water, the surface of the leaf is untouched by the water," Ceylan said.
The research findings will result in increased safety to ground crews, passengers, and shortened processing time. It will even reduce the number of flight delays by reducing the need for plowing operations and due to reduced flight cancellations, as well as reduced delays in aircraft ground support because of safer pavements and less congestion at the gate area. With a decrease in snow and ice removal, the benefits may also be seen economically, timely and environmentally due to the elimination of harmful de-icing agents. "The impacts of this research make winter air travel faster, more affordable, more accessible, more sustainable and safer for all parties involved," Ceylan said.
CCEE Communications Intern Alex Hagar contributed to this story.