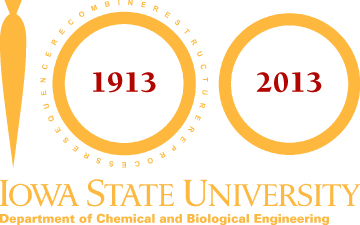 In 2013-2014, the Department of Chemical and Biological Engineering at Iowa State University celebrates its 100th academic year. Since Spring 1914, the chemical engineering program has graduated nearly 6,000 students in the chemical engineering bachelor's, master's and doctorate programs.
The department culminates its centennial at the Centennial Celebration Sept. 26-27, 2013. Several activities are planned around campus to remind alumni and guests of the Iowa State chemical engineering pride they hold dear. A comprehensive agenda of Centennial Celebration events is available.
Starting Thursday morning, Sept. 26, eight speakers (seven of them Iowa State chemical engineering alumni) will present, in a series of lectures, education and research topics in the chemical engineering field. More than 150 will attend this event, known as the Chemical and Biological Engineering Centennial Research Symposium, at Howe Hall's Alliant Energy-Lee Liu Auditorium. This continues through Friday morning, Sept. 27. Symposium speakers are listed alphabetically below.
John Anderson, keynote; president of Illinois Institute of Technology
Tim Anderson (BSChE'73); dean of College of Engineering, University of Massachusetts-Amherst
Cory Berkland (BSChE'98); professor of chemical and petroleum engineering/pharmaceutical chemistry, The University of Kansas
Chris Ellison (BSChE'00); assistant professor in McKetta Department of Chemical Engineering, University of Texas at Austin
Matt Kipper (BSChE'00, PhDChE'04); associate professor of chemical, biological and biomedical engineering, Colorado State University
Brenda Mann (BSChE'91); co-founder/vice president or research and development, SentrX Animal Care; research associate professor of bioengineering, University of Utah
Umit Ozkan (PhDChE'84); professor of chemical engineering, The Ohio State University
Brent Shanks (BSChE'83); professor of chemical and biological engineering, Iowa State University; director, National Science Foundation Center for Biorenewable Chemicals
From 11:45-1:30 and 4-5 Thursday, visit with chemical engineering graduate students in Howe Hall's atrium about their research.
Also on Friday, Andrew C. Hillier, chair and Wilkinson Professor of Interdisciplinary Engineering, will lead a ribbon cutting ceremony at Sweeney Hall. Centennial Celebration guests will tour newly renovated laboratories in Sweeney Hall and Biorenewables Research Laboratory. A series of museum showcases placed on all three Sweeney Hall floors will be on display. The Chemical and Biological Engineering Alumni Hall of Fame wall will be revealed.
Following the ribbon cutting ceremony, guests will attend an alumni luncheon in Scheman Building. Our beloved mascot Cy, Cyclones cheerleaders and Iowa State men's a cappella group, Shy of a Dozen, will entertain the 130-plus crowd.
On Friday night, the Centennial Celebration Banquet will host more than 260 guests at Memorial Union. Following a keynote address by Anson Marston Distinguished Professor Emeritus Dick Seagrave, the department will recognize recent scholarship and fellowship recipients. It will also honor 23 chemical and biomedical engineering alumni as the Chemical and Biological Engineering Hall of Fame inaugural class. Their names, along with Iowa State degrees and most recent job titles, are listed below.
Ronald Baukol (BSChE'59); executive vice president of international operations, 3M (retired)
Reginald Baxter (MSChE'49); chairman and chief executive officer, Baxter Associates, Inc.
George Burnet (BSChE'48, MSChE'49, PhDChE'51); Anson Marston distinguished professor emeritus, Iowa State University
Wayne Dunshee (BSChE'70, MSChE'71); corporate scientist, 3M (retired)
Dale Fridley (BSChE'58); vice president of technology, ExxonMobil Company (retired)
Kenneth L. Garrett (BSChE'64); senior vice president, AT&T (retired)
Robert Gerwig (BSChE'52); executive vice president/president of chemical operations, Conoco (retired)
Bruce Grasser (BSChE'64); managing director of mergers and acquisitions, Lubrizol (retired)
Gary L. Griswold (BSChE'67); president, 3M Innovative Properties (retired)
James Halligan (BSChE'62, MSChE'65, PhDChE'67); senator, State of Oklahoma
Manley R. Hoppe (BSChE'32, MSChE'35); chairman emeritus, Parr Instruments Company (deceased)
Allen Jacobson (BSChE'47); chief executive officer, 3M (deceased)
James Katzer (BSChE'64); vice president of technology, ExxonMobil (deceased)
Maurice A. Larson (BSChE'51, PhDChE'58); Anson Marston distinguished professor emeritus, Iowa State University (deceased)
Charles Lettow (BSChE'62); judge, U.S. Court of Federal Claims
John G. McDonald (BSChE'57); president, BP Oil (retired)
Nicholas Reding (BSChE'56); vice chairman of the board, Monsanto
Lanny Robbins (BSChE'61, MSChE'63, PhDChE'66); research fellow, The Dow Chemical Company (retired)
Jerald L. Schnoor (BSChE'72); Allen S. Henry Chair in Engineering and professor, University of Iowa
Dick Seagrave (MSChE'59, PhDChE'61); Anson Marston distinguished professor emeritus, Iowa State University
Mary Jane Skogen Hagenson (MSBiomedE'76, PhDBiomedE'80); vice president for research and development, Chevron Phillips (retired)
Michael R. Steffenson (BSChE'59); chairman and chief executive officer, Parr Instruments Company
G. Paul Willhite (BSChE'59); Ross H. Forney distinguished professor, The University of Kansas
In many ways, Iowa State chemical engineering epitomizes the land-grant philosophy its university lives by. Although biobased research has become increasingly popular, the chemical engineering program got its start in agricultural byproducts. The pioneering work of Dr. Orland Russell Sweeney, the department's first leader, utilized agricultural wastes and caught the attention of Iowa and the U.S. in the 1920s and 1930s. Today, the biological philosophy is coming full circle with Iowa's biorenewables research. Breakthrough studies in health care/biomedical engineering, computational fluid dynamics, renewable energy, chemical catalysis, and nanostructures also make the department a versatile leader in chemical engineering research and education.
For more information, visit the chemical and biological engineering centennial website, www.cbe.iastate.edu/centennial.