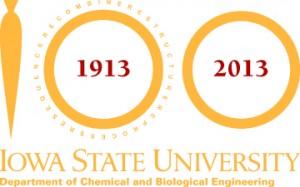 The chemical and biological engineering program has graduated nearly 6,000 students in its bachelor's, master's and doctorate programs since it was started 100 years ago. The Chemical and Biological Engineering Centennial Celebration will take place on Thursday, Sept. 26 and Friday, Sept. 27.
The celebration includes several activities throughout campus for CBE alumni and guests, including a Football Game Watch for the game against Tulsa, departmental tours, a golf outing, an alumni luncheon and more. The two-day event will begin at 8:45 a.m. with the CBE Centennial Research Symposium, for which attendance is expected to exceed 150 people.
Eight speakers—including seven CBE alumni—will present a series of lectures about education and research topics in the chemical engineering field:
John Anderson, keynote; president of Illinois Institute of Technology
Tim Anderson (BSChE'73); dean of College of Engineering, University of Massachusetts-Amherst
Cory Berkland (BSChE'98); professor of chemical and petroleum engineering/pharmaceutical chemistry, the University of Kansas
Chris Ellison (BSChE'00); assistant professor in McKetta Department of Chemical Engineering, University of Texas at Austin
Matt Kipper (BSChE'00, PhDChE'04); associate professor of chemical, biological and biomedical engineering, Colorado State University
Brenda Mann (BSChE'91); co-founder/vice president of research and development, SentrX Animal Care; research associate professor of bioengineering, University of Utah
Umit Ozkan (PhDChE'84); professor of chemical engineering, Ohio State University
Brent Shanks (BSChE'83); professor of chemical and biological engineering, Iowa State University; director, National Science Foundation Center for Biorenewable Chemicals
The CBE Centennial Banquet will be held at 6 p.m. on Friday, with a welcome by Provost Jonathan Wickert and a keynote by Anson Marston Distinguished Professor Emeritus Richard Seagrave, Alumni Hall of Fame Inaugural Class. Ken Jolls, professor of chemical and biological engineering, will provide musical entertainment with two fellow musicians beginning at 5:45.
In many ways, Iowa State's Department of Chemical and Biological Engineering epitomizes the land-grant philosophy by which the university lives. Although biobased research has become increasingly popular, the chemical engineering program made its start in agricultural byproducts. The pioneering work of Dr. Orland Russell Sweeney, the department's first leader, utilized agricultural wastes and caught the nation's attention in the 1920s and 1930s.
Today, the biological philosophy comes full circle with Iowa's biorenewables research. Breakthrough studies in healthcare and biomedical engineering, computational fluid dynamics, renewable energy, chemical catalysis and nano structures also makes the department a versatile leader in chemical and biological engineering research and education.