Kendall Griffith, vice president of operations for Mortenson Construction's Minneapolis office, is an Iowa State University alumnus with an impressive portfolio of construction projects and a conviction that close collaboration between builder and client produces the best outcome.
Griffith, a 1992 graduate, came to Iowa State from Geneseo, Illinois, and was drawn to construction engineering by a realization that he was fascinated with the urban environment.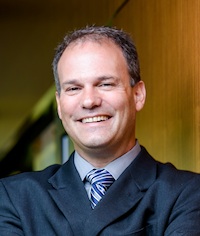 "At the time, the 801 Grand building in Des Moines was going up, and it was a really cool urban project," Griffith says. "I'd also previously lived in Baltimore, and through my experience with large East Coast cities, I knew I had an appreciation of the history of the built environment. I was excited by the idea that I could be a part of the evolution of a city."
Griffith found coursework at Iowa State not only engaging but also a solid preparation for his career in industry. And academic advisor Jerry Chase (emeritus professor of civil and construction engineering) was an important faculty influence.
"He was the right person, in the right place, at the right time in my formative student years. His personal style, his knowledge, and his ability to relate his industry experience to students made a big impression on me," says Griffith.
After a co-op job in southern California with a water treatment contractor confirmed Griffith's desire to work on buildings, he went straight from graduation to Mortenson Construction and has been there ever since.
Griffith said the key to success in commercial construction, one he's learned over the course of his career at Mortenson, was realizing that the builder's own best interest lay with the customer's.
"In that regard, I'm working for the right company. Mortenson places a high value on the philosophy of close partnership with the customer, and so do I."
It's a philosophy that developed in his first years with the company. Griffith started as a project estimator. After an early opportunity overseeing the construction of a hospital in Grand Marais, Minnesota, Griffith was sent to Orlando, Florida, for two and a half years to work with Walt Disney Company on a project he considers "the most important and pivotal" of his career—the construction of what is now the ESPN Wide World of Sports Complex. Mortenson served as Disney's construction manager partner on the project, with Griffith as part of the team.
"Acting purely as a builder and operating solely in your own interests, you manage your budget, your schedule, your risk. But that doesn't really consider the customer, the people or organizations you are building for," Griffith explains. "As a project manager, you become so in tune with their budget, their schedule, and their risks that you become an extension of them. And that's what it really takes to succeed—that collaborative relationship, being completely aligned with customer objectives and priorities."
Afterward, Griffith returned to Minneapolis, overseeing successively larger projects, including the 2005 Walker Art Center Expansion—a $45 million project that included work of Pritzker Prize-winning Swiss architecture firm Herzog and de Meuron and the challenges of a unique design.
"There were no traditional details on that building, no traditional spaces, and so there were no traditional approaches to construction. We had to retrain everyone on the job site to think differently, to build differently. It was an incredibly challenging and rewarding project."
His favorite project of all time? Russia's Grizzly Coast Exhibit, completed in 2008.
"It was a completely different kind of client for us. The Minnesota Zoo has been a pioneer in replicating as exactly as possible an animal's environment to educate people and promote conservation. It was interesting and fun to dive into the details."
Griffith returns regularly to Iowa State, both to oversee Mortenson projects on campus like the construction of Hach Hall and the flood restoration of Hilton Coliseum, as well as for employee recruiting.
He says Iowa State University's civil, construction, and environmental engineering department does an excellent job keeping itself attuned to industry trends and the quality of the education continues to be as strong as when he attended.
"The course work is very, very good and prepares the students well for what would be expected of them in industry. I've found that Iowa State grads tend to make a smooth transition from student life to industry work."
In his experience recruiting and interviewing, he's handed out plenty of advice to graduating students, but he said he found that the level of energy people bring to their career is the first indicator of success.
"Make sure you're excited about what you're doing," he says, "and if you are, let it guide you."