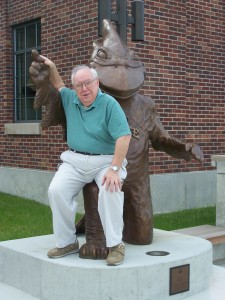 Wallace Sanders—professor emeritus of civil, construction and environmental engineering, former interim assistant vice provost for research and associate dean for the College of Engineering—accumulated plenty of memories throughout his 34 years with Iowa State.
"I remember the first calculator I ever saw," he says. "Not computer—calculator. I also remember the first computer I ever saw was as big as the dean's office and all it could do was accounting."
Though he may not have the extensive technological knowledge of his younger colleagues, he always has something to bring to the table. Sanders says he depended on his coworkers to create a balance of skills, knowing the importance of teamwork in engineering.
"One thing you need to learn is that you can't do it all yourself —you just can't know everything."
Sanders obtained his Ph.D. from the University of Illinois in 1960 and went on to teach there before moving on to Iowa State. Carl Ekberg—then the civil engineering department head at Iowa State—advised him to stay at Illinois for a few years when he received his doctorate. When an opening occurred at Iowa State in 1964, Sanders took the job.
Thinking he would only stay a few years, Sanders—a native of Louisville, Kentucky—ended up settling down in Ames, where he's lived for nearly 50 years now.
Retiring in 1998, Sanders truly left a mark on the steel industry. The American Institute of Steel Construction recognized his contributions by presenting Sanders with a Lifetime Achievement Award in April.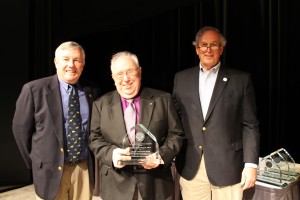 "Dr. Sanders has carried the message for steel construction in the engineering community in Iowa, and passed his passion for the subject to countless engineers, particularly designers of highway and rail bridges," states the AISC. "His lessons will be remembered for decades to come."
The recognition has been an honor, Sanders says, adding that he knows almost all the winners from the last 10 years. He also says the award means more coming from a nomination by his colleagues.
"The university has really been good to me," says Sanders. "I had many opportunities—some that other people didn't get. Some were lucky, and some I think I deserved."
One of those "lucky" opportunities came when he was giving a lecture in Detroit in 1979. His talk included a comparison of his research and that of Dimitris Kosteas, a professor of light metal structures at the Technical University of Munich.
Unaware that the professor was attending the same event, Sanders was surprised when Kosteas came to speak with him after his presentation. That opened the door for Sanders to give a lecture series at the German university a year later, which led to his being asked to join the committee that writes criteria for the European Committee for Constructional Steelworks.
With that position, Sanders was able to visit Europe three times a year from 1981 to 1985, taking his wife along each time. "Very few people have that opportunity," Sanders says. "Sometimes you're smart, and sometimes you're lucky."
These sorts of opportunities are part of what has made Sanders' career so rewarding. Sanders spent about half of his years at Iowa State teaching and the other half in administrative roles, which he says were both equally enjoyable.
"As associate dean, I was able to help young faculty get started in their careers," he says. "But I also enjoyed teaching because I liked the interaction with students."
Sanders especially liked working with graduate students. "The opportunity to work with students fulfilling an additional study in my particular research area was great. Working with people who are interested in what you're interested in directly—that's really a blessing."
Since Iowa State had such an impact on his life, Sanders and his wife chose to return the favor. One such gift was the couple's contribution to the Town Engineering Building. When Howe Hall was built, his department moved into the north end of Town Engineering, which had previously been the aerospace department's wind tunnel, but Sanders said it didn't have a strong enough test floor to be suitable for civil engineering work.
Now, the Wallace W. and Julia B. Sanders Structural Laboratory is located in room 130 of Town Engineering, with almost as much space as the main testing floor. It's just one more opportunity Sanders said he's been granted as a civil engineer: his chance to benefit the public.
"As an engineer you design something, and if it's built, you see what you did. Not all engineers do that, but in my field it's something very tangible."