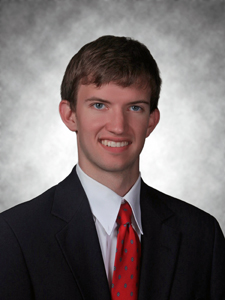 by Thane Himes
When senior Austin Laugen got a call from the Alumni Association, he thought it was a donation call. Little did he know he was being given one of the most prestigious honors a graduating senior can obtain at Iowa State University.
Laugen, a computer engineering major, was named one of this year's Wallace E. Barron scholars. The Wallace E. Barron award is presented to seniors who display high character, outstanding academic achievements, great presence and leadership in university/community activities, and promise to continue these exemplary qualities as alumni. Established in 1968, the Wallace E. Barron All-University Senior Award grants two-to-five awards every year, conferring the honorees and presenting them with an official Iowa State University Ring from the Alumni Association at the Student Scholars and Leaders Recognition Ceremony. Laugen is one of five to win the award this year.
"It was a big shock," Laugen said. "But I'm honored to have been chosen for this award."
When Laugen was in high school, an outreach program got him into engineering.
"I always liked computers and vehicles," Laugen said. "I knew that's what I wanted to do when I went to college."
Laugen was attracted to Iowa State not only because of its programs for National Merit Scholars, but also for the beautiful campus, and the people populating it.
"The people I saw when I toured the campus for the first time reminded me a lot of myself," Laugen said. "I made a lot of good friends here."
Laugen has been an active member of the Iowa State and Ames community since he first arrived. He's part of the Greek community and belongs to the Beta Sigma Psi fraternity. It was quite a transition for Laugen.
"I'm an only child, so going from having almost half a house to myself to three guys jammed in one room was a big change," Laugen said.
Laugen also is an executive member of the Engineering Student Council, where he has demonstrated outstanding leadership.
"I served on the committee to pick the next dean of the college," Laugen said. "It's been one of my favorite experiences here, not just because of what I got to do, but because it was a great opportunity to watch and learn how decisions like that are made."
Besides student organizations, Laugen also has a passion for encouraging the next generation to take an interest in engineering. During his sophomore year, he helped run a middle school outreach day, bringing students to campus and demonstrating some of the typical equipment an engineering student uses.
"The best thing was just seeing those kids be fascinated by what we were showing them," Laugen said.
Laugen graduates next month, but he already has plans to follow his passions. He'll be taking a job with John Deere, where he'll be working on control systems for combine harvesters, combining his love of mechanics and his love of computers. Laugen did an internship with John Deere in the past, and the experience only further solidified his professional interests and goals.
Above all, Laugen advises future students to immerse themselves in challenges.
"If you're not challenging yourself, you're not growing," Laugen said. "You'll find pretty quickly that you can improve yourself and still have a lot of fun."
The luncheon in which Laugen will be presented the award will be held on Friday, April 26.