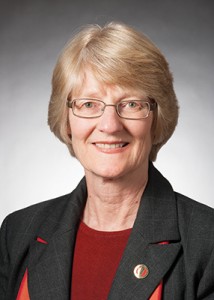 Greetings from the new dean in the Iowa State College of Engineering! My name is Sarah Rajala, and I officially began my duties on April 1. I am so excited to be here on campus. I consider it an honor to lead such an internationally recognized engineering college, and I plan to build on the tremendous success that has been established here through generations of excellent students, faculty, and staff. Engineering is my passion, and I've come to a great place to call home.
From Bulldog Country to Cyclone Nation
I arrived in Ames via Mississippi State University where I was dean at the Bagley College of Engineering, and prior to that, served as head of the Department of Electrical and Computer Engineering. My administrative experience also includes time at North Carolina State where I was associate dean of academic affairs and associate dean of research and graduate programs. You may be wondering if I will enjoy living in the Midwest, but this is nothing new for me. I grew up and attended college in the Upper Peninsula of Michigan and also did a sabbatical in Indiana, so I am used to all the elements that Mother Nature can bring!
My husband Jim Aanstoos and I have bought a house and are getting settled. Jim is finishing up work in Mississippi, but is looking forward to joining me in Ames in June. We have two grown daughters–Kristen, who lives wherever the US State Department sends her (soon to be Doha, Qatar), and Stephanie, who lives in Tallahassee, Florida.
I am quickly learning the Iowa State culture and am looking forward to Veishea and walking in the parade. I am a big basketball fan and got to experience a little Hilton Magic this season, and I can't wait for the football season to start. I'm also spending time getting to know Ames and plan to explore all that this community has to offer.
I would like to thank Mufit Akinc for his time as interim dean the past eight months. He did an amazing job of fulfilling duties of this office and has helped so much with my transition. I hope you will thank him for his service if you have the chance.
Vision for the college
My vision for the college is to continue our proud land-grant heritage and build our leadership position in academics, research, and engagement. I want us to be recognized nationally and internationally for creativity and innovation, as well as for educating future leaders. I have a strong passion for fostering a culture of diversity and inclusiveness, and would like to expand these opportunities here. I am also committed to collaborating with all corners of the university, the private sector, and industry. I believe there are many people who have a stake in the success of our college, and I will work to make sure all voices are heard and good ideas rise to the top.
In my first 90 days, I plan to spend time getting to know my Iowa State family; identifying the college's strengths, weaknesses, opportunities, and issues; setting priorities and identifying metrics to measure success and impact; and by all means, continuing successful ongoing efforts. I will be open and communicate often–and I invite comments, questions, and suggestions.
I am fortunate to be entrusted with such a respected leadership position at an outstanding university like Iowa State. I look forward to being here a long time and getting to know each of you in the process. Go Cyclones!