by Brittany Oswald, Senior, CprE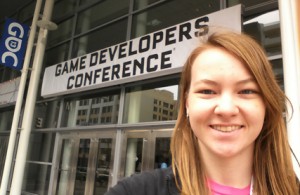 This March, I had the privilege of attending the Game Developers Conference in San Francisco. It may sound cheesy, but going to this conference changed my life and has solidified my desire to pursue a career in game development. The theme for the conference was "Learn. Network. Inspire." Well, I learned, I networked, and I definitely was inspired.
Earlier in the year, I won the International Game Developers Association (IDGA) scholarship, which was awarded to 21 students from around the world.  As part of the GDC scholar package, we were invited to exclusive studio tours in the San Francisco area. We visited with Three Rings, a free to play mobile games company, and Double Fine, a creative video game company founded by Tim Schafer. We spoke to the founders of each company and learned about the struggles and latest trends in the game development industry.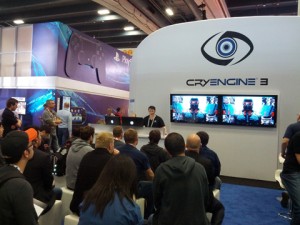 As a scholar, I also received an all-access pass to the conference, meaning I could attend any session I liked. During one session, the speaker listed some activities that can be used to teach audio design principles for games. Another session detailed several pieces of advice for students who are looking to get a job in the game development industry. These messages of these sessions were very useful and will translate well enough to be included within future ISU Game Development Club meetings.
The Game Development Club also will benefit from connections I've made with speakers who are willing to meet with our club and discuss the game development process in industry and how to make ourselves more appealing to game development companies. One particular speaker, who has worked at Double Fine on the game Psychonauts, has been confirmed to speak with the club at the April 22nd meeting.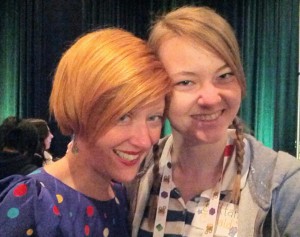 As a scholar, I was paired with a mentor from the game development industry, and I won the mentor jackpot by having Robin Hunicke as my mentor. She was one of the producers for the award winning game Journey, and is the co-founder of the game company Funomena. She is actively involved with running workshops and events at GDC, but she made time to meet with me and introduce me to her friends. I told her about how I am interested in a game development internship this summer, and she has connected me to her friends at several popular game development companies such as Bungie, PopCap, and 343 Studios.
Some of the most inspiring people I met at GDC were women. During some of the Women in Gaming events throughout the week, I was able to listen to and learn from the experiences of other women who have worked diligently to expand the game development "boy's club" into a more inclusive group. Things are getting better, but the industry still has a long way to go. My mentor, Robin, said the most important thing we can do to make the industry more welcoming is to be a good example and become a mentor for others.
Robin has agreed to continue our mentor/mentee relationship and has asked if I could assist in the organization of an event for GDC next year. I can't wait to see all my new friends at the conference again, and I want to do my part to ensure a positive GDC experience for others in years to come. I am extremely grateful for the experiences I had at GDC this year.