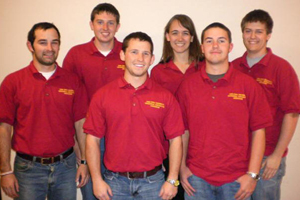 The Iowa State University Mechanical Contractors Association (MCA) received the $7,500 Chapter of Excellence Grant, a national award for only the ten best MCA student chapters in the U.S.
The first $5,000 of the award goes to student scholarships, which were selectively divided four ways among Maria Hannasch, Tyler Mueller, Aaron Elston and Shawn McKenzie. All student honorees are seniors in construction engineering.
The other $2,500 will be used for chapter operations, funding for field trips and travel costs to the annual Mechanical Contractors Association of America Student Chapter Summit or convention.
Club Advisor and CCEE Senior Lecturer Brad Perkins attributes the grant award to regular industry events, communication and promotion tools with CCEE students and regional industry, as well as internships and jobs that students get as a result of MCAA student chapter activity.
"I am impressed by the high student involvement in the club and interaction with industry companies," Perkins says. "To win this award out of about 50 chapters nationwide says a lot about our students."
Throughout the 2011-2012 academic year, the club hosted many companies in mechanical contracting, including several for their first mini-career fair in October 2011. In September 2011 they put on a golf fundraiser at The Harvester Golf Club (Rhodes, Iowa), raising $2,600 and fostering networking with students and industry employers.
For more about the Iowa State MCA chapter, go to http://www.stuorg.iastate.edu/mca/homepage.html.