The Iowa State National Electrical Contractors Association (NECA) Student Chapter took home third place and the $750 prize at the fourth annual Green Energy Challenge finals in Las Vegas.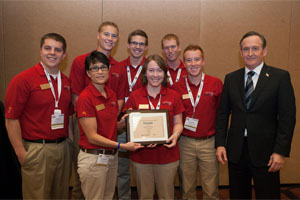 The team gave an oral presentation of their written plan, a mock energy analysis and retrofit of Hilton Coliseum, to a panel of NECA industry leaders at the finals. The presentation team consisted of Eric Ryan (ConE), Justin Wenger (ConE), Erik Johnson (ConE), Bryan Whitson (CE), Paul Speed (CE) and Megan Vollstedt (English May '12).
Students that participated in the challenge said the third place finish isn't the only thing they took away from the experience.
"The experience of presenting a formal proposal to a panel of professionals was extremely valuable, and I felt my public speaking skills improving almost daily," says Speed. "I learned a lot about the realities of the engineering industry."
"This competition gave me great insight into the networking opportunities that these types of events provide," said Johnson, another member of the presentation team. He described the competition as one of many opportunities Iowa State provides that allows students to compete against other schools and push themselves to become better professionals.
Beth Hartmann, Iowa State NECA faculty advisor and a lecturer in the Department of Civil, Construction and Environmental Engineering, led a group of NECA Student Chapter students who created a written proposal, adopting construction, design, marketing and management techniques to develop a mock energy analysis and retrofit of Hilton Coliseum. Items they considered were the arena's lighting, air conditioning and heat systems, alternative energy sources, how their plan meets top Leadership in Energy and Environmental Design (LEED) standards and more. At the Green Energy Challenge preliminary competition, the Iowa State team placed first in the written proposal section, receiving the highest score the judges have ever given and sending them to the finals.
"We couldn't have done it without the team members and many faculty and staff in their supporting roles," says Hartmann.
The group is already anxious to try again at the 2013 Challenge.
"Even though it was our first trip [to the finals competition], we had our sights set on first place. We are proud of our third place finish and look forward to building on that success next year," says Speed.
Youngstown State University took the top prize, with the University of Washington coming in second and Georgia Tech placing fourth.
Iowa State and other finalist proposals can be viewed at blog.necaconvention.org/2012-green-energy-challenge-winning-entries.