Dan Varnum didn't know when he started in Iowa State's industrial engineering program more than 30 years ago that he'd end up in the healthcare field. The journey that would take him there started during a co-op as an undergraduate and recently landed him in the position of chief executive officer at Mercy Medical Center – North Iowa.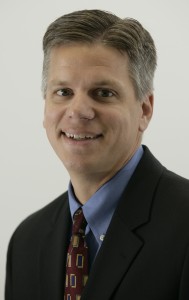 Varnum, a 1985 IE alum, has always had a strong interest in math, science, and analytical processes. After he graduated from Roland-Story City High School, he immediately set his sights on Iowa State. Having learned about engineering from his older brother who was in the university's mechanical engineering program, Varnum knew Iowa State was the place for him.
While at the University, he was a member of Delta Chi Fraternity as well as other engineering student groups. He also took advantage of multiple co-op opportunities over the course of three years, spending time working in Des Moines for Iowa Methodist Medical Center. These experiences are something he says played an instrumental role in preparing him for his future career.
"I did a couple co-ops, working for a semester, going to school for a semester and the following summer, and then working at the co-op again," Varnum explains. "It was the co-op program that got me excited and interested about healthcare and the opportunities for an engineer to be involved in the health services industry."
After graduation, Varnum went to work for the same hospital he had connected with through the co-op program. He also earned a master's degree in business administration from Drake University, graduating from the program four years later.
Over the past 29 years, he has continually grown in his career.
He served as the chief operating officer for a primary care physician group in Des Moines for ten years, followed by three years working for Wellmark, where he became highly involved in advancing the company's process improvements.
For the past nine years, Varnum has been with Mercy Medical Center in Des Moines, serving as a member of the center's executive team and again leading process improvement efforts. Recently, he was presented with the chance to serve Mercy Medical Center – North Iowa as the chief executive officer.  Having since accepted the position, Varnum will begin his appointment on October 29.
"Mercy Medical Center – North Iowa is an exceptional organization with great physicians, staff, and a long history of being an innovative healthcare organization, so I'm just excited to be a part of their continued journey to improve healthcare as we head into some potentially challenging times for healthcare organizations nationwide," he says.
Varnum will move to Mason City with his wife, Denise. They have three adult children, two who live in Ankeny and one who is a freshman at Simpson College in Indianola.
While there is no doubt his family, along with his career in engineering, keep him busy, Varnum continues to find time to be a strong supporter of Iowa State. With season tickets to both football and basketball games, he says he enjoys an excuse to regularly get back to campus and be a part of things happening the university.
"My experience at Iowa State was outstanding and gave me a foundation of learning that has helped prepare me to do what I'm doing today," says Varnum. "My advice for students would be to take every opportunity they can, whether that be internships, co-op programs, or any chance to work in a professional environment where they can get hands-on experience that relates their learning in the College of Engineering."