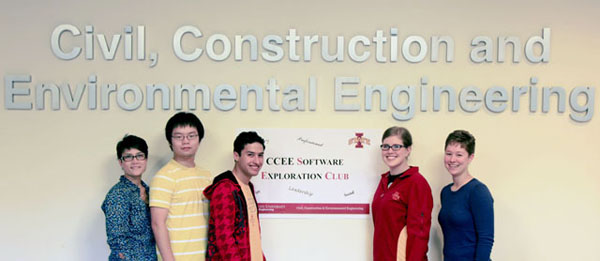 Need to learn Prezi, AutoCAD, BIM, MATLAB, ANSYS, or even the latest Microsoft Office programs? There's now a student club for that. Civil, construction and environmental engineering (CCEE) students can now enhance their software skills with the CCEE Software Exploration Club (CCEE SEC).
Hongtao Dang, a MS structural engineering student, started the club this semester to provide students resources for civil engineering and construction engineering software. While students familiarize with engineering concepts through courses, they must become proficient in software to create successful projects as professional engineers. Dang uses this philosophy in a student organization setting.
Graduate students from different CCEE focus areas demonstrate software for students using a question-and-answer method. "I want to encourage undergraduate students to let us know what they need help on in their academic learning and integrate with graduate students," Dang says. Dang will issue a survey to club members during their first meeting to see what types of software students want to learn more about. Survey results dictate the next set of software demonstrations. The first club meeting is Thursday, September 20, 5-6 p.m. in 210 Town Engineering Building.
The first software demonstration will be advanced Microsoft Word document exploration. Many sealed functions and shortcuts of Microsoft Word document will be discussed. These tips help students on report, proposal and paper writings. "By attending the demonstration meeting, students will learn to get things done in a 'second' rather than spending hours on it," Dang says.
The CCEE SEC adopts an alternating demonstration-social event approach. For one week, students learn and practice tips and shortcuts related to the software they want to learn. The next week they get together to socialize and group mentor with graduate students.
The club is free this semester. To join, contact Faculty Co-Advisor Beth Hartmann at bethlin@iastate.edu, Faculty Co-Advisor LaDon Jones at lcjones@iastate.edu or Dang at hitdang@iastate.edu.