A team from industrial and manufacturing systems engineering (IMSE) at Iowa State University has secured a partnership in a research project aimed at streamlining the design and manufacture of U.S. Department of Defense equipment, including vehicles, weapons, and other complex systems.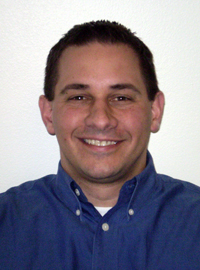 The team, led by PI Matt Frank and Frank Peters, both associate professors in IMSE, will develop manufacturability analysis software and rapid manufacturing systems with the goal of reducing the design-to-build timeframe by a factor of five; a daunting challenge.
The $48 million, 3-year contract was awarded by the Defense Advanced Research Projects Agency's (DARPA) "Instant Foundry Adaptive through Bits"(iFAB) program, which is part of the agency's Adaptive Vehicle Make (AVM) portfolio. Penn State University's Applied Research Laboratory (ARL) is leading the project in collaboration with several commercial, military, and academic partners, with Iowa State adding rapid manufacturing expertise to the group. The Iowa State team has been contracted for $2.5 million of the original $48 million program.
Over the past decade, the Rapid Manufacturing and Prototyping Laboratory (RMPL) at Iowa State has been developing rapid technologies for creating parts at the push of a button. One such technology called CNC-RP is a rapid machining process that can accept a 3D CAD model of a component, and within minutes and no human input, have a computer-controlled milling machine begin creating the part from scratch. This technology attracted the interest of the Penn State ARL team, as rapid design-to-manufacturing is a key topic in the iFAB program.
"The work at RMPL has always focused on time reduction in manufacturing, which made us very well suited to this current challenge put forth by DARPA," explained Frank. The team will also develop manufacturability analysis tools for metal castings, which also builds on previous research by the investigators.
The iFAB program will be supporting another AVM program at DARPA called FANG (Fast, Adaptable, Next-Generation Ground Vehicle). FANG will run a series of national design challenges related to military ground vehicle technologies that will see teams of manufacturing, logistics, and research partners creating a vehicle from the design stage through the manufacturing stage. The iFAB project will provide near-instantaneous manufacturability feedback to designers to ensure the designs can be manufactured, and most importantly, within a timely manner.
The entire process utilized in FANG represents a new, more flexible way to build complex systems and could revolutionize the way defense equipment is developed in the future.
Frank and Peters' team will consist of a minimum of three graduate students, a post-doctoral researcher, and a number of undergraduates from Iowa State. They have also sub-contracted with research teams at both Bradley University and the University of Alabama at Birmingham.
The team has already begun prototyping Design for Manufacturability (DfM) analysis software, which will be used for design participant feedback as part of the FANG challenge. In addition, the team is ramping up efforts to deploy the CNC-RP rapid machining system at two sites, Penn State's ARL and Rock Island Arsenal, to support the actual manufacturing of the vehicle in the final year of the project.
"For us, the exciting aspect of this program is that in three years an actual working military vehicle will emerge from an assembly bay at Rock Island Arsenal, and we'll be part of the team that makes that happen," said Frank.