A team of researchers at Iowa State University, led by Vlasta Klima Balloun Professor Hans van Leeuwen, has been awarded the Global Award for Applied Research in the 2012 International Water Association Global Project Innovation Awards (PIA). Their winning project is described as "Water reclamation from ethanol production leftovers with animal feed production using a fungal process," which means the development of a process on pilot scale that will make the production of ethanol from corn more economical.
There are only six global awards every two years, which go through a rigorous preliminary round in having to win awards through affiliated organizations worldwide. The Iowa State team qualified last year by winning an Honor Award from the American Academy of Environmental Engineers.
"We beat stiff competition from China, the Netherlands, Australia, Hong Kong and Spain, along with 20 other international entries in the applied research category," says van Leeuwen. Altogether, there were 120 entries for the IWA Global Award Competition.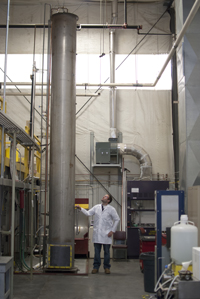 The Iowa State team's research is about creating a new fungal product called MycoMeal from cultivating an edible mold, Rhizopus microsporus, on leftover thin stillage from corn-to-ethanol plants, while reclaiming water for reuse with large energy savings. MycoMeal can be used as a highly nutritious animal feed and potentially as a human food supplement, van Leeuwen explains. The product could be a valuable supplement and extremely helpful in alleviating malnutrition in developing countries.
"(Former) President Greg Geoffory, (former) Provost Betsy Hoffman and Provost Jonathan Wickert of Iowa State University have tested and enjoyed products made from the fungal pilot plant," he says. "It can also serve as a source of valuable nutraceuticals. Ongoing tests on pork and poultry nutrition have so far proved to be very successful."
In addition to these benefits, full implementation of the Iowa State team's research could stimulate the economy by making ethanol production more profitable as well as creating hundreds of additional jobs in Iowa.
Iowa State's research team includes Nick Gabler and Mike Persia, assistant professors of animal science; Mary Rasmussen and Duygu Ozsoy, postdoctoral research associates in environmental engineering and food science and human nutrition; graduate students Daniel Erickson and Christopher Koza; and Dr. Debjani Mitra, a food science and technology and biorenewable resources technology PhD graduate of Iowa State.  Helpful assistants in the CCEE department were Weston Kleinert, Shashank Ravi and Alexandra Bruns.
Van Leeuwen says the team has had excellent support from industry, with assistance by a three-year, $450,000 grant from the Iowa Energy Center and a Smithfield grant from the Office of the Iowa Attorney General. Lincolnway Energy of Nevada, Cellencor Corp. of Ames, Iowa State University Center for Crops Utilization Research and Iowa State University BioCentury Research Farm are also supporting the project along with many volunteers.
There will be a PIA Global Awards Ceremony and Dinner to celebrate the achievements of the winners on September 19, 2012, at The Paradise Hotel Busan in Korea.
For more details on the project, visit the Iowa State University News Service.