ECpE lost one of its most treasured alums last week. Richard Kohler (RK) Richards died Tuesday, June 26, 2012 at Mary Greeley Hospital. He was 90.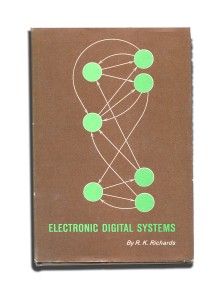 RK graduated from Iowa State with an Electrical Engineering degree in 1943 and, after serving in the army Signal Corps during World War II, obtained a PhD in theoretical physics from MIT in 1949. Richards worked at the IBM Central Research Facility from 1949-55 and was granted 28 different patents for his designs of vacuum-tube-based business computers. He is the author of five books on computer design.
Richards served as principle witness in the patent dispute that eventually recognized the Atanasoff-Berry computer as the first digital computer. Richards was honored with the College of Engineering's Professional Achievement Citation in Engineering (P.A.C.E.) Award in 2009 for his contributions to the mathematics of early digital computing and for bringing public recognition to the Atanasoff-Berry Computer.
Richards is survived by his wife, Virginia; his three children, Elizabeth (Joe Hardesty), of Albuquerque, N.M., Albert (Roxanne), of San Francisco, Calif., and Jane, of Boulder, Colo.; and five grandchildren, William, Lauren, Jonathan, Jay and Jordan. He also is survived by his sister, Alberta Olson of Alliance, Neb.
Online condolences may be recorded at www.grandonfuneralandcremationcare.com.