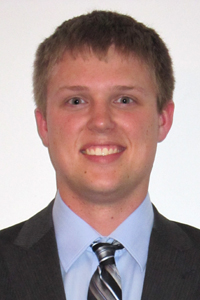 Grant Schmitz, a graduate student studying structural engineering, recently won a William C. Bailey Scholarship from the Post-Tensioning Institute (PTI). His award was presented at the PTI Technical Conference and Exhibition May 8 in Nashville, Tenn. Schmitz was the only Iowa State University student, of eight winners from schools around the country, to receive a PTI scholarship.
The William C. Bailey Scholarship contributes $2,500 to his educational expenses.
Part of the scholarship application, Schmitz submitted a statement of how post-tensioning concrete influences his career. The wind energy industry drives his current research goals, particular through the design and construction of 100-meter-tall wind turbine towers. "I firmly believe wind energy and post-tensioned systems will be a major part of many of my future projects," Schmitz says. "I look forward to applying the knowledge I've gathered."
Post-tensioning is the act of reinforcing concrete and other materials with high-strength steel strands or bars. This application typically is used in today's infrastructure design and construction.
He studies under CCEE's Wilson Engineering Professor Dr. Sri Sritharan. Schmitz is expected to graduate with a Master of Science degree in civil engineering in December 2012.
The Post-Tensioning Institute, based in Farmington Hills, Mich., is a worldwide authority of expanding and promoting post-tensioning applications and systems in the U.S., Canada, Mexico, Japan and Europe.