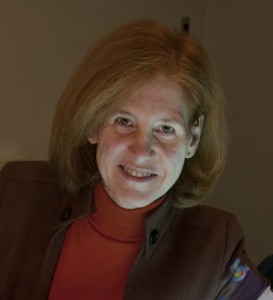 Caroline Hayes has been named the College of Engineering's next chair of mechanical engineering. She will also hold the positions of professor of mechanical engineering, and Lynn Gleason Professor of Interdisciplinary Engineering. Her appointment will begin October 1, 2012.
Hayes, a native of Pennsylvania, holds bachelor's, master's, and doctoral degrees from Carnegie Mellon University. She most recently served with the Department of Mechanical Engineering at the University of Minnesota, where her duties also included serving director of graduate studies for human factors and ergonomics, and faculty liaison to the Minnesota legislature.
"My plan is simple: to provide Iowa's diverse and vibrantly creative young people with the best quality mechanical engineering education possible," Hayes said. "Channeling their natural curiosity towards discovery, invention and entrepreneurship is the most direct way to insure Iowa's lead in the high tech global economy."
Hayes has served as a principal investigator on more than 30 research grants and contracts, and is the author of nearly 150 articles, presentations and book chapters on the subjects of human factors, robotics, and human-computer interaction. She is also active in developing STEM (Science, Technology, Engineering and Mathematics) initiatives for girls, underrepresented minorities, and young people. Hayes recently consulted with the Science Museum of Minnesota on its upcoming Journey into Space exhibit.
"We're extremely pleased to welcome Caroline Hayes to Iowa State," said engineering Dean Jonathan Wickert. "Caroline's administrative experience, combined with her thought leadership in robotics and human-computer interaction, will enable her to lead the department forward during this period of unprecedented growth."
Mechanical engineering is the largest department in the engineering college, and the largest single major on the Iowa State campus, with 1,342 undergraduate and 180 graduate students. The department is also home to 36 faculty.
Wickert, in announcing the appointment, expressed appreciation for Professor Ted Heindel, who has served as interim department chair since 2009.
"Ted has done an outstanding job," Wickert said. "Under his leadership, the department has made important new hires, built collaborations across the college, and strengthened relationships with alumni and corporations."
Wickert also expressed his thanks to the search committee, led by aerospace engineering Chair Rich Wlezien, for their efforts on behalf of the college.