At The Boeing Company, there are more civil engineering jobs available than one may think.
This is what Jack McGuire (B.S. CE '66), a retired Boeing Commercial Airplanes director of structures engineering and technology, and Bob Funke (B.S. CE '84, M.S. CE '86), current senior manager of mechanical and structural engineering at Boeing Defense, Space and Security, want to communicate to CCEE students.
Civil engineering senior Pam Erickson has taken advantage of such a job opportunity as a stress engineer level I position at Boeing in Seattle, Wash. "After Boeing visited the department last year, I got excited about possibly working there," Erickson says.
In summer 2011 she got that chance. Erickson was hired as an intern on Boeing Commercial Airplane's 737 retrofit program. She applied her engineering knowledge to the maintenance and coordination of discrepant parts of the airplane's wings and tail, structural analysis pertaining to using a larger engine and more. The internship rotated her responsibilities, allowing her to practice many civil engineering applications.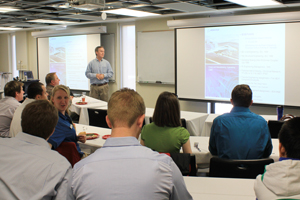 Erickson plans to continue that project as a full-time stress engineer after graduating in May. She joins more than 600 Iowa State engineering graduates employed at Boeing today, according to Funke.
At Boeing, two quality factors stand out in successful job candidates: excellent grasp of fundamental engineering technology principles and effective communication skills. "We recognize that Iowa State students have developed a strong work ethic and demonstrate great communication through extracurricular activities and internships," Funke says.
As a Boeing employee, one can expect similar opportunities as a college student. The company offers traditional and distance learning courses to employees, which often are paid for. The employee, as an engineer, can develop a managerial or technical track through various roles and at various Boeing locations in the United States and throughout the world.
More recently, The Boeing Company has focused attention to social opportunities, especially for young professionals. They have an internal Facebook-like social network, many extracurricular activities, and even The Boeing Employees' Concert Band.
Now that Erickson has found a career job after graduation, she says that communication is "huge" in helping her succeed. "Continue to network and have conversations with company representatives to get your name out there," she says. "Even try something different."