On Saturday February 15, 2012, Iowa State's campus was bursting with 300 enthusiastic middle school and high school students from the Des Moines, Denison, and Marshalltown school districts to participate in Science Bound's first spring workshop of the year.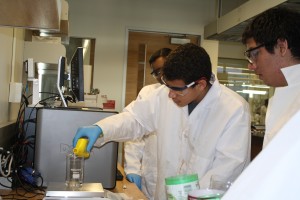 Science Bound, a "pre-college program created to increase the number of ethnically diverse Iowa students who pursue ASTEM (agricultural, scientific, technical, engineering and mathematics) degrees," holds four K-12 workshops per year. Supporting the goals of the program and strengthening a long-standing relationship with Science Bound, the College of Engineering faculty and staff provided several activities Saturday to help stimulate the minds of the young students.
"The workshop showcased an interactive activity that demonstrates a real-world application of what Iowa State University engineers do," explained Anita Rollins, the Science Bound program manager.
Students were divided into 16 groups and then directed to different activities across campus. Activities hosted by individuals from the college included:
High school students build structures to withstand the shake table.

Water purity –Michelle Soupir (ABE)

Microbes and the making of industrial products –Raj Raman (ABE)
Engineering and earthquakes –Sri Sritharan (CCEE)
Biodiesel and biorenewables –Mark Brown (CBE)
Creating clean water for everyone – Dan Voss (Engineers Without Borders)
Presentation – Lisa Rueschhoff (MSE)
Hotel Lego – Patrick Rumpza (Sigma Lambda Chi)
Providing a good example of the activities that day, the engineering and earthquakes workshop was a hit with 12 high school students who attended. Srithiran, professor of civil, construction and environmental engineering, began by explaining the basics of structural engineering and the science behind earthquakes.
Following his presentation, the students teamed up to design a structure that could withstand the shake table. With nothing more than K'NEX brand name plastic construction toy pieces and 15 minutes on the clock, the students built their design and then were given the chance to test their building on the shake table.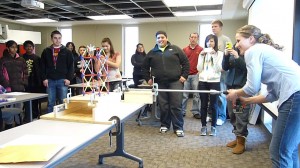 No matter the workshop or discipline, each student was engaged in the aspects of ASTEM and left campus with additional skills and knowledge they can utilize in the future. As a part of Science Bound, any student who completes the program, meets admissions requirements, and pursues an ASTEM related degree will be offered a full tuition scholarship at Iowa State.