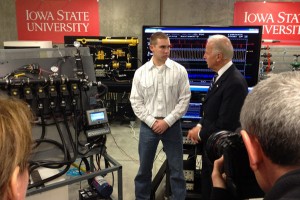 During his visit to Iowa State's campus on March 1, Vice President Joe Biden highlighted the role engineering will play in the country's future economic growth, which relies on keeping jobs and innovation in the United States.
Before he took the stage at the town hall forum, Biden met with students working on manufacturing projects in the College of Engineering. During his talk, he noted the projects served as a good example of collaboration across different disciplines and partnerships between academia and industry.
Biden also discussed "insourcing" as opposed to outsourcing, and was proud to say more companies are bringing their manufacturing business back to the U.S.
"We have the most skilled workers and engineers in the entire world," Biden said, adding that our workforce is strong because we can challenge norms and "think different."
"That's the environment the next generation of great ideas is going to come from, and you have that kind of environment right here. Where students and businesses are working together to develop skills that can revolutionize entire industries," he said.
Media coverage of Biden's visit
WHO-TV
WOI