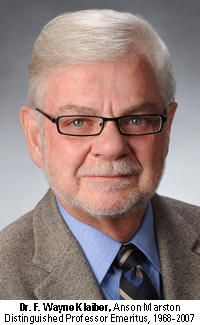 Anson Marston Distinguished Professor Emeritus Dr. F. Wayne Klaiber and late Professor Emeritus James M. Hoover were recently named recipients of the inaugural Iowa State University Alumni Association (ISUAA) Faculty/Staff Inspiration Awards.
Former students nominated them for their significant influence on students' lives while at Iowa State.
Ben Biller (B.S. CE '81, M.S. CE '82), Klaiber's former graduate student and member of the civil engineering department advisory council, nominated Klaiber for the award. Klaiber taught at Iowa State from 1968 to 2007, including courses in reinforced concrete design, pre-stressed concrete design, bridge design and structural analysis.
He was named Anson Marston Distinguished Professor in Engineering in 1994. In 2003, Klaiber was honored with a Lifetime Achievement Award by the United Kingdom's Structural Faults and Repair Committee for his "outstanding and distinguished international service in the field of bridge engineering." In October 2011 he was honored for 50 years of service with the American Concrete Institute, where he is also a Fellow. Today he is a contract associate for Iowa State's Department of Civil, Construction and Environmental Engineering, serving as a proposal writer on several collaborative county bridge projects throughout Iowa.
Dr. Craig Denny (B.S. CE '71, M.S. CE '73), Hoover's former student, posthumously nominated Hoover for the award. Hoover (B.S. CE '53, M.S. CE '56) taught geotechnical engineering from 1955 to 1991. During the 1960's, '70s and '80s, the Iowa native helped develop the geotechnical engineering/materials program with his extensive international research in soils and materials, particularly in Colombia and South Africa. He died in 1994.
In 2004 Denny created the endowed James M. Hoover Chair in Geotechnical Engineering to honor Hoover's legacy in leading geotechnical engineering at Iowa State. CCEE Professor Jian Chu currently holds this position.
Klaiber, as well as Hoover's family, will be formally recognized for the Faculty/Staff Inspiration Award at the ISUAA Annual Meeting and Dinner on May 18. The Faculty/Staff Inspiration Award was established in 2011 by the ISUAA.