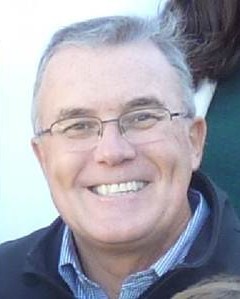 With 40 years of experience in environmental engineering, James Alleman has been given one of the highest recognitions a member of the American Society of Civil Engineers (ASCE) can receive. Alleman, a civil, construction and environmental engineering (CCEE) professor at Iowa State, was among the five percent of distinguished ASCE members named as Fellows this fall.
Humble as he is, Alleman said he was honored to be recognized by the organization.
Fellows are selected based on their contributions to society, the industry and the future of civil engineering. Alleman's service as an environmental engineering officer in the U.S. Army Medical Service Corps, and his commitment to academia and research throughout his career, contributed to his selection.
Alleman, who has taught at institutions in the U.S. and internationally, is in his seventh year at Iowa State, and most recently served for six years as the CCEE department chair. He continues to manage the civil engineering learning community and teaches a freshman computer applications course, as well as contributing to two other CE classes.
His most recent research project is a two-mile stretch of interstate highway in St. Louis, Missouri, where construction crews are paving sections of the road with a new mix of concrete that contains titanium dioxide. This substance, which can be found in the paint of the white lines of roads and even in the lettering on M&M's candies, creates a whiter tint in concrete. "It's remarkable what happens when light lands on this concrete," Alleman explained. "The light's energy actually causes a chemical reaction with the titanium dioxide, and we see the surface of the concrete creating a self-cleaning reaction with the air."
While this concrete has been used in Europe, Alleman's project is the first to test it on full-scale pavement in the U.S. Currently, the researchers have paved only certain sections to monitor the air and water quality from these sections and compare it with regularly paved portions.
Alleman is working on developing his research portfolio, with a few projects already in mind. To further advance research on highway materials, Alleman wants to study concrete and asphalt in parallel in terms of their thermal behaviors. The project would closely compare aged concrete and aged asphalt based on how they capture and release energy from the sun, and how these materials impact the heat island phenomenon in urban areas. This research could potentially help guide the selection of paving options used for roads in the future.
One of Alleman's newer projects stems from a technology originally conceived by NASA. Years ago NASA began to wonder what they should do with the harmful carbon dioxide that builds up in space capsules. In response, they developed a device that takes the carbon dioxideout of the air and converts the gas into a black carbon dust relieving the air of this potentially harmful chemical. "If we take that same basic idea and use it in an industrial plant that emits a lot of carbon dioxide, there's a potential that we reduce or eliminate the carbon dioxideemitted from that plant," he said.
Alleman and his research team first thought this method would be best utilized in cement plants, which account for the second largest source of carbon dioxideemissions behind coal due to the process of burning limestone to create the cement.  "When we look at global warming and future government regulations to reduce carbon dioxide, this process could have a significant impact in keeping these plants running," Alleman said.
It's Alleman's commitment to making a difference through his work that made him a notable selection for ASCE Fellow. His achievements have also been honored with several other awards in recent years: The Wansik Award for Best Core Teacher and Best Researcher from Purdue University School of Civil Engineering in 2002; and the American Consulting Engineers Council Award in 1986 for his work as a consultant with Kamber Engineering Inc. on the Poolesville, Maryland, advanced wastewater treatment facility. For the 1986 award Alleman was one of 10 national award recipients that year for projects that included the Statue of Liberty renovation and Baltimore's Fort McHenry Tunnel.
Alleman says being selected an ASCE Fellow is an honor, but it also serves as motivation to continue his focus on teaching and research. "I honestly believe you're a better teacher if you do good research at the same time because you can bring ideas to the classroom that students like hearing about, and get them fired up about things they wouldn't have otherwise known about," Alleman added. "That is what my focus has always been and will continue to be."