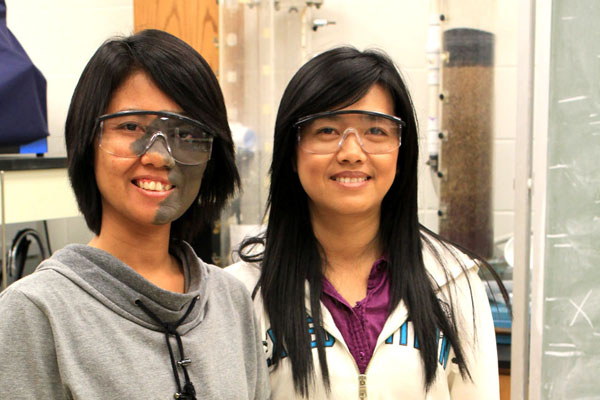 Students and scholars Boonya Charnnok (pictured left) and Kanyarat Saritpongteeraka from Thailand have joined the Iowa State University's Department of Civil, Construction and Environmental Engineering temporarily to work with Dr. Shihwu Sung, a professor in environmental engineering.
Charnnok and Saritpongteeraka came to the United States September 1, both saying they chose Iowa State to complete their studies because at Iowa State they can gain experience from experts. Both are in the research stages of each of their projects.
Charnnok is researching how to remove hydrogen sulfide from biogas in its liquid state. Biogas is used to produce energy, she explained, and if it contains hydrogen sulfide, it can damage the engines that use it. Her goal is to learn how to purify the biogas by removing the hydrogen sulfide and therefore making it environmentally friendly. For safety reasons, she will be conducting her experiments while the biogas is in a liquid state, rather than gaseous. Assisting with her research is civil engineering undergraduate Ren Tingting.
Charnnok expects her project to take about a year, with the experiment phase starting in a few months and then taking about six months to complete. The Thailand native's goals are to publish her research report from this project and to one day become a professor.
Saritpongteeraka has the same ambition of becoming a professor back in Thailand. She is researching nitrogen removal from wastewater through the anammox, or anaerobic ammonia oxidation, process. She explained that wastewater contains a high amount of nitrogen. When the wastewater enters a river or lake, the nitrogen promotes algae growth, which leads to an "algae boom." The overwhelming growth of algae lowers the oxygen content in the river water and endangers marine wildlife. Saritpongteeraka is researching how to prevent this by removing the nitrogen before the wastewater gets into a river.
Like Charnnok, Saritpongteeraka expects her experiment process to take about six months and also will publish a research report on her project. Both of their research projects at Iowa State  will be done by September 2012. The two women received the Royal Golden Jubilee Ph.D. scholarship awarded by the Thailand Research Fund to provide them with living expenses in the U.S. for the year.
Dr. Sung explained that his role in the projects is mainly to supervise and provide guidance for the visiting scholars. Their advisor, Assistant Professor Dr. Sumate Chaiprapat from Prince of Songkla University in Thailand, was a former student of Sung's and helped him connect with Charnnok and Saritpongteeraka for these projects.
CCEE Communications Intern Brady Rebhuhn contributed to this story.