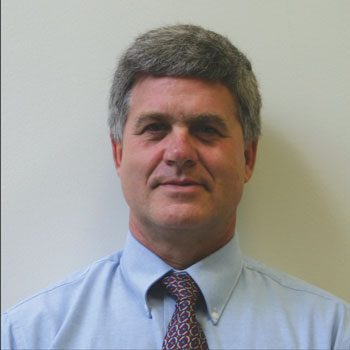 Professor Terry Wipf will serve as interim chair for the Department of Civil, Construction, and Environmental Engineering (CCEE) beginning August 16. He succeeds Professor Jim Alleman, who will return to the faculty to pursue his teaching and research interests in environmental engineering and wastewater treatment.
Wipf came to Iowa State in 1983 after finishing his PhD at the University of Nebraska-Lincoln. He says a strong research program related to bridge engineering drew him to Iowa State, along with the quality education the institution provided to its students. Wipf also worked as a bridge engineer for approximately four years with HNTB, Corp., a major bridge design consulting firm.
At Iowa State, Wipf is the Pitt Des Moines Professor in Civil Engineering. He holds several leadership positions, including structures division leader for CCEE and director of the Bridge Engineering Center housed at the Institute for Transportation (InTrans). These positions allow him to work on research in bridge engineering areas such as structural health monitoring and advanced materials and construction methods.
Wipf says the education and research within CCEE and InTrans is a critical component to the nation's infrastructure. "Our program has to train engineers to be creative, sensible, and aware of the environment when designing and managing major projects," Wipf said. "We also have a responsibility to advance the research within the industry to meet significant demands, such as sustainability and safety."
As interim chair, Wipf says he is looking forward to working closely with the dedicated, high-quality faculty, staff, and students in the CCEE department, adding that he plans to use a cooperative approach to receive their highly valued input during this time of transition.
"With successful leadership experience and an excellent research portfolio, Professor Wipf will build on the past successes the department has experienced under Professor Alleman's direction," said Jonathan Wickert, dean of the College of Engineering. "His guidance will serve CCEE well as the department continues to grow and expand its important and strong educational and research programs."
Wipf's appointment will continue for two years or until the next permanent chair of the department is named.