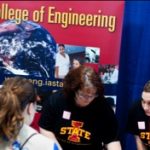 On April 30, 2011, more than 2,000 girls and adults gathered at the Iowa State Fairgrounds in Des Moines for the Believe in Girls (BIG) event. Hosted by the Girl Scouts of Greater Iowa, BIG placed special emphasis on science, technology, engineering, and math (STEM) fields, as well as arts, culture, and community service.
As a partner sponsor of the event, the Iowa State University College of Engineering was a full participant in the day's activities. The sponsorship was made possible by a donor gift to the college's recruitment and community outreach program.
The college hosted a presentation featuring MSE professor Larry Genalo's Seriously Cool Stuff demonstration, and staff handed out thousands of "Engineer Like a Girl" stickers. The Flying Monkeys, a local FIRST LEGO League team that developed an award-winning prosthetic device, also helped promote the college and FIRST LEGO League.
Genalo's interactive demonstrations explore how atoms influence materials and shows the challenges of working with materials in the MSE profession. "There were a lot of kids doing fun activities and learning things," Genalo said. "We experienced some logistical challenges and had to make some adjustments to our presentation, but overall the girls were excited to be there and were having a good time."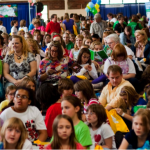 Kristin Hunter, vice president of marketing for the Girl Scouts of Greater Iowa, said the energy and enthusiasm of the vendors helped make the event so successful. "Iowa State's booth spoke in a language girls understood by using LEGOs to demonstrate engineering," she said. "It was a great attention-getter to get them introduced to everything the university offers, and to let them know about careers that they might not have thought about before."
The event supported the Girl Scouts' focus on empowering girls to build courage, confidence, and character to make their lives and the world a better place, partnering well with that of the college's recruitment and outreach focus. "With BIG, we wanted to provide girls with opportunities they may not have had before, especially in fields like science, technology, engineering and math," Hunter said. "It's important to teach girls that there are no limits to what they can do with their lives and BIG was just one of the ways that Girl Scouts helps girls realize that."
Data shows women represent 46 percent of the total workforce but only 27 percent of the technology workforce. Statistics compiled by the Girl Scout Research Institute and the Iowa Department of Education also indicate that 68 percent of girls demonstrate decreased interest in math and science courses from 4th grade to 8th grade. Once interest is gone, it's hard to get back due to the continuous, cumulative learning process these fields typically require.
The Girl Scouts feel that beginning the emphasis on education, awareness, and enthusiasm surrounding the necessity for technological skill in career choices at a young age and developing a progressively more complex approach as girls grow older can effectively address the issue of technological competencies in the future workforce.
"Encouraging girls to participate in the STEM fields is core to our mission," said Camille Sloan Schroeder, director of engineering recruitment and community outreach "Working with the Girl Scouts helps us reach a large number of girls who are eager to learn and are at the age where getting excited about STEM is critical. It's a great partnership that we hope to continue through the years."