Luke Roling, senior in chemical engineering, will be leading the engineering class as it enters Iowa State's graduation commencement ceremony on Saturday, May 7, 2011, after being selected as this semester's College of Engineering student marshal. His faculty escort will be Assistant Professor of Chemical and Biological Engineering Eric Cochran.
Roling will be receiving degrees in chemical engineering and mathematics. He was nominated by Surya Mallapragada, Stanley Professor and Chair of the Department of Chemical and Biological Engineering, who praised him for his leadership, work ethic, and success in a variety of experiences. These experiences include being president of the Government of the Student Body, holding the vice chair position for the City of Ames Student Affairs Commission, and serving on the University Budget Advisory committee. Roling has been recognized with several awards, including the Dean's Student Leadership Award.
"My time spent building the college's Veishea float for two years with Freshmen Leaders in Engineering and working with other leaders on Engineering Student Council to plan outreach activities are memories that will remain with me forever," he said. "I learned a lot about my own leadership style through these groups, and it really helped shape the direction I've taken in my academic career."
His honors project "The Sounds of Hilton Magic," evolved after hearing about a decibel study done at Penn State's football stadium. The purpose of the project was to determine if there was a cause for Hilton Magic (and the home-court advantage seen in athletics). Roling gathered data based on the volume level on the crowd and how it affects things such as shot percentages. His conclusion: "There's not a significant correlation in my data that louder stadiums change player performance," he said. "Hilton Magic (and home advantage) involves much more than just noise. We may never know what lies behind the mystical force supporting our Cyclones."
Roling has had both research and industrial internship experiences as well. He will be attending the University of Wisconsin-Madison to work toward a PhD in chemical engineering.
Other nominees and the departments that nominated them are Seth Berbano, materials science and engineering; Bin "Ben" Cao, electrical and computer engineering; John Gottsacker, aerospace engineering; Robert Mayer, industrial manufacturing and systems engineering; Andrew Olney, mechanical engineering; Luke Schmidt, civil, construction and environmental engineering; and Nicole Stoll, agricultural and biosystems engineering.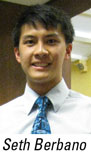 Berbano will be earning a degree in materials engineering with an emphasis in ceramics and electronics and a minor in economics. During his time at Iowa State, he completed two National Science Foundation sponsored research experiences—one summer in Japan and the following summer in South Korea. He was also a researcher in Steve Martin's Glass and Optical Materials Research group, where he studied different processing methods for sodium-ion solid electrolytes and presented his research during several meetings and conferences. Berbano also shared his knowledge and excitement for teaching and learning in the STEM fields as a supplemental instruction leader and was a George Washington Carver scholar and peer mentor for the Carver Academy. He held leadership positions in APEX (Academic Program for Excellence), residence hall government, Golden Key, and Tau Beta Pi. After graduation, Berbano will pursue a PhD in materials science and engineering at Penn State with the goal of becoming a faculty member.

Cao is graduating with a degree in computer engineering and a minor in Chinese studies. His academic achievements, commitments to others, and service to the community have been recognized with several awards including the William L. Everitt Excellence Award given to an outstanding senior who has demonstrated an interest in the communication field. Additionally, Cao completed the honors project "Humanoid Research: Adaptive Video Game Learning," and served as president for HKN (Eta Kappa Nu: National Electrical and Computer Engineering Honor Society), vice president for IEEE (Institute of Electrical and Electronics Engineers), and was the Iowa State Campus Connector for IBM. He will be working for IBM as a software engineer in cloud computing.
Gottsacker is receiving a degree in aerospace engineering and a minor in physics. He was an undergraduate research assistant for the Wind Simulation and Testing Laboratory, where he completed research in the field of tornado and microburst simulations. He also completed the honors project "Reliability Considerations for a Rockoon Launch Vehicle," and studied abroad in the Netherlands. In the aerospace engineering program, Gottsacker is a known leader, great role model, and helpful resource for other students. After graduation, he will be working as a systems engineer at Rockwell Collins in Cedar Rapids.
Mayer will earn an industrial engineering degree. During the course of his education, the projects he has worked on have earned praise from both the industrial engineering department and professional community, including an honors technical communication proposal that helped his church procure a $3.5 million gift from an anonymous donor. He has had internships with Lockheed Martin, NASA, and GE Transportation, and has held numerous leadership positions in organizations across campus, including one year as a drum major for the Cyclone Marching Band. Mayer is active in many different places both on- and off-campus, and he has a commitment to education and passion for sharing with others. Following graduation, he will be staying at Iowa State to earn a master of science in industrial engineering.

Olney will graduate with a degree in mechanical engineering and a minor in Spanish. He held a director position with Project DREAMS (Developing Responsible, Educated, and Aware Multicultural Scholars), a program that provides guidance and mentorship to underprivileged high school students with the intent of inspiring the students to pursue higher education after high school. He is recognized for his ability to see the bigger picture, being cognizant of global issues, and making every attempt to better the world and people in it. On campus, Olney participated in numerous honor societies including Tau Beta Pi and Pi Tau Sigma, as well as the Greek community through positions within Sigma Lambda Beta International Fraternity and the Multicultural Greek Council. He has accepted an offer to work for Boeing Defense, Space, and Security in the military aircraft division as a structural design engineer.
Schmidt is graduating in civil engineering. His enthusiasm and discipline helped drive his ambition to understand and participate in many opportunities presented at Iowa State, and his experience in research has provided him with an understanding of the complexities of the field. Schmidt has the ability to inspire others through his commitment to service, effective style of leadership, and his determined approach to academic and research endeavors. He has worked for HDR engineering in Omaha, the Institute of Transportation in Ames, and was a teaching assistant for the civil engineering program. Additionally, he volunteers for numerous groups including Brush Up Nebraska, Habitat for Humanity, and the Durham Western Heritage Museum. Schmidt has accepted a position at Kimley-Horn and Associates in Dallas, Texas, where he will work in the field of Transportation and Traffic Engineering and Planning.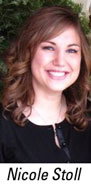 Stoll will earn a degree in agricultural engineering with an emphasis in food processing. Within the ABE department, she has been a freshmen and transfer student mentor for two years, helping underclassmen in the department's learning community. She was also the first woman to become president of the American Society of Agricultural and Biological Engineers student chapter. Her participation and accomplishments in these activities and many others have earned her respect and positioned her as an excellent role model for students, especially young women interested in STEM careers. Stoll recently studied abroad in Nicaragua for her senior capstone project. She was selected for a manufacturing engineering internship with Gits Manufacturing Company after her freshman year, which gave her experience to qualify for a project management engineering co-op position, and later a project management engineering internship, both with Cargill, Inc. She is planning to work as a process engineer for a local farmer's co-op through the College of Agriculture and Life Science's Entrepreneurship Program.