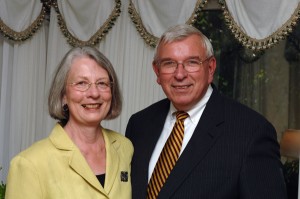 Iowa State University's goal of establishing an endowed deanship in every academic college has taken another step forward with the creation of the James L. and Katherine S. Melsa Endowed Deanship in the College of Engineering.
The Melsas of Naperville, Ill., have made a $2.5 million commitment to establish the deanship. The gift will be combined with $500,000 contributed in 2004 in conjunction with Jim Melsa's retirement as dean of the College of Engineering to create the endowed deanship.
The new endowed fund will provide perpetual funding for college priorities and will be administered by the dean of the College of Engineering.
"Jim Melsa was an outstanding dean for Iowa State's College of Engineering," said Iowa State President Gregory Geoffroy. "The college made tremendous progress under his leadership, and now he and Kathy are generously providing the resources to help the college continue this progress by endowing the college deanship. We are extremely grateful to Jim and Kathy for their loyalty, support and generosity, and we are proud to have their names permanently connected to the college through the James L. and Katherine S. Melsa Deanship in Engineering."
The Melsa Endowed Deanship is the fourth such position established at Iowa State University. Other endowed deanships exist in the Colleges of Agriculture and Life Sciences, Business, and Veterinary Medicine.
"The College of Engineering is profoundly appreciative to Jim and Kathy for their lifelong dedication to Iowa State," said Jonathan Wickert, dean of the College of Engineering. "Their commitment to endow the deanship will provide the college with important discretionary funding that can be used to build upon our strengths, pursue emerging priorities, and solidify our place as a leader in educating engineering students. The best way for our college to honor Jim's accomplishments as dean is to accomplish even more."
As dean, Melsa led a transformation of the College of Engineering that included construction of the Engineering Teaching and Research Complex, revamping the undergraduate learning environment, expanding internships, co-ops and international experiences, and expanding research and technology transfer activities.
Melsa is a 1960 electrical engineering graduate of Iowa State. The couple met as students on campus while serving together on the 1960 VEISHEA central committee.
The gift is part of Campaign Iowa State: With Pride and Purpose, the university's $800 million fundraising effort. More than $820 million in gifts and future commitments for facilities and student, faculty and programmatic support have been made to Campaign Iowa State.
—
This release was also included in a Des Moines Register blog post.