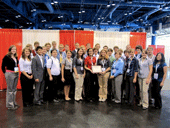 The Iowa State Chapter of Material Advantage (MA) received the "Most Outstanding Chapter" Award at this year's national Materials Science and Technology Conference, marking seven consecutive years of earning the award.
Kate Lindley, junior in materials engineering and president of the Iowa State chapter, said each award is an amazing achievement that continues to push the group to continue its outstanding work.
"(The award) is challenging. We keep trying to think of new ways to do what we do so well," Lindley said. "We look at what we did and how to improve on last year. We try to evolve and build on that pace."
To be eligible to win the award, the chapter must submit an annual, "Chapters of Excellence Report" that is reviewed by a national committee. Each chapter is judged in five categories: programming activities, career development, outreach services, social activities, and chapter management.
Iowa State's chapter focuses much of its time and planning on meeting the award's categories.  A big part of reaching their goals involves fundraising through pizza sales held every Wednesday at Hoover Hall. "Our co-chairs do a great job working on the sales, and every week it helps us bring in around $300 in funding," Lindley said.
The chapter's outreach program helps raise awareness of materials engineering. Members have participated in more than a dozen outreach events this year that bring materials science experiments to local area schools. These outreach programs help make K-12 students more aware of materials engineering and give recognition to the chapter.
Larry Genalo, professor and associate chair of materials science and engineering, helps with the chapter's outreach and career development.
"Larry does an outstanding job with outreach," Lindley said. "He helps us receive grants to build demo kits for materials science experiments in different schools. He helps us reach high school students and middle school students."
The chapter also likes to focus on social events that allow students to create personal connections.
"We organize social activities for our members including Friday After Class events, potlucks, and intramurals," said Jordan Trachtenberg, senior in materials engineering, and the chapter's vice president of programming and outreach.
Lindley added, "Materials engineering is a unique group of engineers. We are small, but everyone knows everyone. We do homework, study, and hangout together."
The chapter recently participated in a fall industry tour in the Davenport area. Members go on two tours each year to visit companies such as Sauer Danfoss, QCML, Solar Plastics, and Cabot Microelectronics.
The "Most Outstanding Chapter" Award is given each year at the national conference. This year's conference was held in Houston, Texas. There are 86 MA chapters all over the world including Australia, Egypt, Finland, Korea, India, and Mexico. Iowa State sent 31 students to this year's national conference, which made up almost half of all undergraduate students who attended.
With all their accomplishments and drive to succeed, it wouldn't be surprising for Iowa State's MA chapter to win No. 8 next year.
"We are doing everything we can do to continue our success and to move past where we were," Lindley said. "I think we have the ability to stay on top."