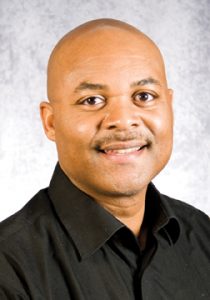 Professor Derrick Rollins has been selected as the recipient of the 2010 Minority Action Committee (MAC) Eminent Engineers Award presented by the American Institute of Chemical Engineers.
Rollins, a professor of chemical and biological engineering (CBE), serves as professor-in-charge of community-based recruitment and transition programs for the College of Engineering.
To be nominated for the MAC Eminent Engineers Award, a candidate must be a chemical engineer who belongs to an underrepresented minority group and possess outstanding technical accomplishments. The nominee must also serve as a role model to other underrepresented minorities in the engineering field and be well respected and recognized within the engineering community.
Surya Mallapragada, CBE chair and Stanley Chair in Interdisciplinary Engineering, said, "This award is fitting recognition of Dr. Rollins's numerous technical accomplishments as well as his untiring efforts to increase diversity in the College of Engineering at Iowa State University."
The award will be presented to Rollins at the AIChE annual meeting in November in Salt Lake City. Rollins will also participate in a panel, along with two other MAC award recipients, on a range of issues including the impact of future engineers on U.S. competitiveness; chemical engineering's role in the global economy; green engineering; and perspectives on the worldwide energy challenges and economic downturn and how they affect the U.S. economy.