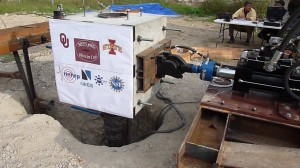 Iowa State's Sri Sritharan anticipated gathering important data during an earthquake simulation in Oklahoma on Wednesday, but he didn't anticipate an actual earthquake occurring in the region.
Sritharan is part of a multi-university team conducting research near Miami, Oklahoma. The Wilson Engineering Professor and associate chair of civil, construction, and environmental engineering noted that the test itself drew plenty of attention, and the  magnitude 4.5 earthquake only added to the interest.
Read newspaper accounts from the Joplin Globe and Tulsa World.