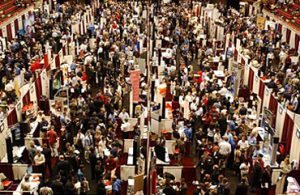 Despite heavy rainfall and a temporary location, engineering students flocked to the career fair Tuesday and found company representatives happy to meet them.
Based on real-time tracking used at the event, more than 3,700 students had participated by late afternoon, which means that attendance was comparable to numbers from recent years.
"The weather and the venue didn't slow down the students at all," said Roger Bentley, manager of student and alumni professional development in Engineering Career Services. "This is a very important event for them, and they know that many companies are hiring engineering interns and full-time employees."
Students moved among 210 employer booths in two large tents. Bentley pointed out that all the employers received the same booth space that they would have gotten in Hilton Coliseum, the fair's usual site.
"All of the companies were fully accommodated," Bentley said, "and everyone I spoke with was impressed by how we made this work so well under challenging circumstances."
Read related articles from the Ames Tribune and the Iowa State Daily.