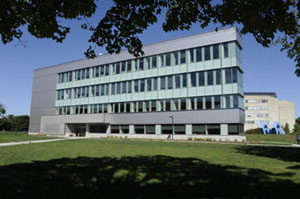 Dedication ceremonies for Iowa State University's new Biorenewables Research Laboratory (BRL) building will be held Friday, Sept. 17, at 3 p.m.
The new facility is a visible "front door" to the university's many diverse and broad-reaching programs in biorenewables and is located on the west side of campus between the College of Design and Howe Hall. Construction was made possible through a $32 million appropriation from the State of Iowa.
The Biorenewables Research Laboratory complements and replaces labs and offices previously located across the Iowa State campus and provides affiliated faculty and staff a physical environment that promotes interdisciplinary, systems-level research and collaboration. It houses the administrative offices and research labs of the Bioeconomy Institute, the National Science Foundation Engineering Research Center for Biorenewable Chemicals and the Biobased Industry Center.
The facility has achieved LEED-Gold certification under the U.S. Green Building Council's Leadership in Energy and Environmental Design (LEED) certification system. The "green" aspects of the building include ample natural lighting, rain water recovery and reuse, a chilled beam cooling system, doors and cabinetry made from bamboo, a partially vegetated roof, and landscaping that includes native plantings and biomass crops specimens such as switchgrass.
The BRL building completes Phase I of the university's two-phase, $107.1 million Biorenewables Complex. Phase II, which will be funded through a combination of state appropriations and private gifts, will add two buildings to the site and provide a new home for Iowa State's top-ranked department of agricultural and biosystems engineering.
Contacts
Tonia McCarley, NSF Engineering Research Center for Biorenewable Chemicals, (515) 294-8549, tmccarly@iastate.edu
Dave Gieseke, ISU Foundation Communications, (515) 294-7263, dgieseke@foundation.iastate.edu
Mike Krapfl, News Service, (515) 294-4917, mkrapfl@iastate.edu