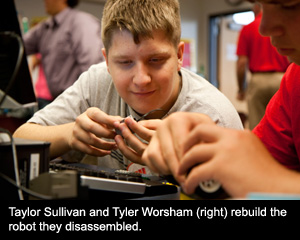 An engineering lab in Howe Hall buzzed with energy Tuesday as 12 blind high school students worked in teams to disassemble, assemble, and reprogram robots built from intricate LEGO pieces. They strategized, they speculated, they laughed, and they proclaimed success.
No one said "I can't."
The students were from an Iowa Department for the Blind (IDB) summer transition program, which works with blind and visually impaired youth ages 14–21 to help them succeed academically and professionally. They were on the Iowa State University campus to participate in a two-day science camp for high school students being coordinated by the state agency. Tuesday's activities featured the engineering-based Toying with Technology workshop.
Watch the Toying with Technology video
"I was looking for a way to help our students learn problem solving and to get into science through some engineering activities," said Tai Blas, a transition specialist with IDB. "Too many of them think they can't."
As fellow transition specialist Keri Osterhaus put it, "A big part of our program is to get rid of those 'I can'ts.' Instead, it's more about saying there's a way and we just need to figure out how to do it."
The workshop was conducted by University Professor Larry Genalo and three student assistants. Toying With Technology is designed to explain the principles behind many of the technological innovations in wide use today. The workshop uses hands-on laboratory experiences based upon simple robots, known as Mindstorms Rovers, constructed out of LEGOs and controlled by small microcomputers. During the workshop, students are given programming challenges that they must solve through teamwork and with the guidance of college mentors.
"Ordinarily, the student participants build the cars at the beginning of the workshop," Genalo announced to the group. But, as he pointed out, they are able to use printed instructions to do so. "This time," he said, "we built them in advance so you can touch them, check them, take them apart, and rebuild them yourselves."
And that's just what the students did, with no hesitation.
As Addie Hugen, of Iowa City, and Nichole Phelps, of Kellerton, snapped together gears and wheels, an occasional stray piece rolling across the table brought only laughter and a renewed attempt. Tyler Worsham, of Des Moines, and Taylor Sullivan, of Glenwood, carefully analyzed and discussed each move, their process so methodical that even their responses to questions were unanimous and simultaneous: What do you think about this? "It's fun." Are you looking forward to the programming challenge? "Yes, definitely." Do you have any experience with programming? "Absolutely not." Smiles all around.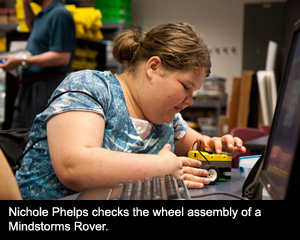 Iowa State students Nate Dobbels (a senior in agricultural education), Philip Goodman (a junior in materials engineering), and Lisa Gestrine (a junior in elementary education) assisted and advised the teams as needed. Goodman is a second-generation Toying with Technology assistant, following in the footsteps of his brother. "I really enjoy the programming," he said. "I like to get others involved in it and see them have fun."
Once the robots were assembled, the programming challenge began. The teams used computer terminals, preloaded with software tools for the visually impaired, to learn about the programming code being used. Then they experimented with changing the code to alter the robot's performance.
Danielle Dunagan, of Onawa, quickly grasped the concept and began adapting the code. "I think it's easy," said Dunagan, who said she had "just an average" background in math. "It's just a matter of understanding how the program works."
Toying With Technology includes workshops that are delivered to students and teachers throughout the state and a college course that brings technology literacy to education majors and others in nontechnical fields.
IDB's Blas was pleased as the workshop unfolded.
"We want our students to get more hands-on exposure to science and math, and this is a great way to do it," she said. "They're having fun and they're learning about an area of technology that's new to them. We want them to think about how they might parlay that into a career."
Contacts:
Eric Dieterle, College of Engineering, 515 520-0236
Larry Genalo, Materials Science and Engineering, 515 294-4722
Shoshana Hebshi, Iowa Department for the Blind, 515 281-1338