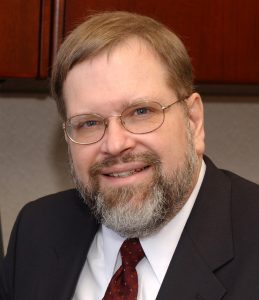 Richard Wlezien has been named the Vance and Arlene Coffman Endowed Department Chair in Aerospace Engineering at Iowa State University.
Currently professor and chair of mechanical engineering at Tufts University, Wlezien will begin at Iowa State's College of Engineering on August 16.
Wlezien's career includes extensive experience in industry, academia, and the federal government. He joined Tufts in 2006 after more than 15 years at NASA and DARPA, where he advanced through a number of research and management positions, eventually serving as a program director at NASA headquarters.
"Bringing Professor Wlezien to Iowa State will strengthen an already prominent aerospace engineering program," said Jonathan Wickert, dean of the College of Engineering. "His research expertise and his comprehensive perspective of aerospace engineering combine to make him an ideal leader of this important area of the college."
Wlezien's research areas include fluid mechanics, turbulent shear flows, laminar and turbulent flow control, aircraft drag reduction, wind engineering, and aerogel processing.
In 2006, Wlezien was awarded the NASA Exceptional Service Medal and was also named a fellow of the American Institute of Aeronautics and Astronautics. He earned a BS, MS, and PhD in mechanical and aerospace engineering from the Illinois Institute of Technology, completing his studies in 1981.
"I am excited and honored to be offered this opportunity at Iowa State, and it is great to join this vibrant organization," said Wlezien. "This department has an extraordinary heritage and will play a key role in the future of aerospace."
Wlezien will be the first to hold the recently created Coffman departmental chair. Vance Coffman, an Iowa State engineering alum (BS'67), is an Honorary Distinguished Professor of Aerospace Engineering at Iowa State and a retired CEO of Lockheed Martin.
Professor Thomas Rudolphi has served as interim chair of aerospace engineering since August 2009. He had previously been chair of the department from 1996 to 2003.
"The college appreciates Professor Rudolphi's service during this transition," Wickert said, "and is thankful that such an experienced administrator was available to lead the department."
Contacts:
Jonathan Wickert, College of Engineering, (515) 294-9988, wickert@iastate.edu
Eric Dieterle, College of Engineering, (515) 294-4881, dieterle@iastate.edu