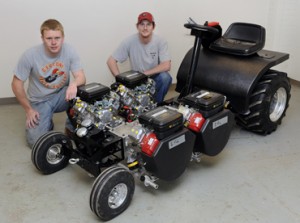 (Read the Iowa State Daily article about the team's results.)
Coming off last year's fourth place finish in an annual, international ¼ scale tractor pull competition, Iowa State University's team could have been justified in making a few small adjustments to their design and hoping to improve their ranking this year.
Instead, the team decided to redesign their entire tractor, changing from a traditional welded chassis with drive-line components inside a welded, sheet-metal frame, to a modular system in which the drive-line components are directly integrated into the chassis.
Andrew Strobel, a recent ISU graduate in agricultural and biosystems engineering who will start work at Vermeer Corp. in Pella after the competition, said much of what has worked in the past is still in the new tractor.
"The drive-line stayed the same. We have a similar clutch and mechanical transmission," he said. "The basic foundation is still there. We are just going about a different way of putting it all together."
The annual competition is sponsored by the American Society of Agricultural and Biological Engineers and is held in Peoria, Ill. This year ISU's team will leave Ames Wednesday with their tractor, "CydeWinder," for the competition held June 5 and 6.
Team members designing CydeWinder include Strobel, Northfield, Minn.; Travis Koster, Breda; Ben Downing, Osceola; and Travis Ohms, Anita.
Strobel estimates that team members were putting in 30 hours each per week during the school year to get the tractor ready. Since finals finished May 7, many team members are working 12-hour days, seven days a week on the project.
Teams from 30 colleges and universities in the United States and Canada each design and build a ¼-sized tractor that is judged on pulling ability, safety, ease of servicing, cost to manufacture, amount of testing done prior to the competition, ergonomics and written and oral presentations.
The pulling component is a big part of the judging but the CydeWinder wasn't built to be the most powerful tractor.
"We will be in the top five in pull, but we are not looking to win the pull," said Strobel. "There are teams that design their tractors to win the pull, but they won't win anything else."
Strobel said they are hoping the new design will allow them to score higher on the pull than last year when they were in the top 10, but also on the other categories.
"The new design is safer because all of our shafts are enclosed in the frame sections, so you absolutely cannot touch any part of the drive-line," he said. "It should be one of the safest tractors there."
Each team is told what type of engine to use for the tractor (this year it is a 16-horsepower Briggs and Stratton) and they can use as many as they like.
Total weight of the tractor cannot exceed 850 pounds and each engine weighs about 100 pounds. CydeWinder is equipped with four engines. Other tractors will likely use between one and five.
Strobel thinks he and his design team have a combination that will score very highly.
"We've seen what's worked and what hasn't and we are trying to put the best of it all together," Strobel said. "We have made improvements where we think we needed to make improvements. We'll do really good. Top three for sure."
Major sponsors of the Power Pullers are Vermeer Manufacturing, Quality Manufacturing Corp., Central Iowa Building Supply, Inc., Sauer-Danfoss, Bauer Built Manufacturing, Lundell Plastics Corp., New Ulm Precision Tool Inc., Case IH, Veterinary Provisions, Inc., John Deere Product Engineering Center, DeJong Manufacturing Inc. and CreativeWerks Inc.
Contacts:
Andrew Strobel, Cyclone Power Pullers, (507) 649-1690, strobel@iastate.edu
Dan Kuester, News Service, (515) 294-0704, kuester@iastate.edu
Wallace's Farmer also ran a story about the Iowa State team, as did The Des Moines Register.