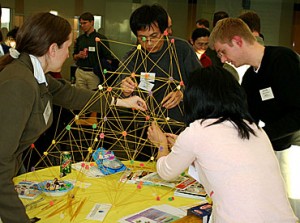 The global Ignite movement does all it can to live up to its motto: "Enlighten us, but make it quick."
And so speakers at Ignite networking events around the world have to work with 20 PowerPoint slides that automatically advance every 15 seconds. That means speakers have exactly five minutes to share an idea, a passion, a discovery. And then it's on to the next talk and the next set of slides.
"It's a geeky, creative get-together," said Stephen Gilbert, associate director of Iowa State University's Virtual Reality Applications Center and a research assistant professor of psychology. "People get together and talk about ideas."
That will happen in Ames for the fourth time from 7 to 11 p.m. May 13 at the Iowa State University Research Park Rotunda at 2321 North Loop Drive in Ames. The Ignite Ames event is free and open to people 18 and older (alcohol is served). But registration is required online or at the door.
Ignite Ames will also feature speed networking, Wii stations, a design jam (a just-for-fun event that challenges participants to complete a design project involving business cards) and PowerPoint Karaoke (more fun and games involving improvisational presentations using random PowerPoint slides).
Ignite Ames is at heart a social event. But Gilbert said this year's connection with an international virtual reality conference brings up a serious side, too.
Ignite Ames coincides with the 2010 World Conference on Innovative Virtual Reality in Ames May 12-14. The conference is sponsored by ASME, founded in 1880 as the American Society of Mechanical Engineers. The conference will bring more than 200 virtual reality researchers from universities and companies around the world and some of them are expected at Ignite Ames. (Registration and fees are required for the world conference.)
Virtual reality is gaining a lot of respect as a research field. The National Academy of Engineering has identified 14 grand challenges for engineers to solve. They range from making solar energy economical to engineering better medicines to securing cyberspace to enhancing virtual reality.
"To most people, virtual reality consists mainly of clever illusions for enhancing computer video games or thickening the plot of science fiction films," says the academy's report. "But within many specialized fields, from psychiatry to education, virtual reality is becoming a powerful new tool for training practitioners and treating patients, in addition to its growing use in various forms of entertainment."
So, if you're an IT professional, graphic designer, venture capitalist, web guru, motivated student or just a geek, Ignite Ames is your place for enlightenment, fun and grand challenges.