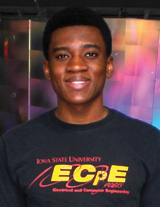 Ames, Iowa — In May, Emmanuel Owusu, a senior in computer engineering at Iowa State University and an Ames native, will be awarded the Errol B. Davis Alliant Energy Award. The award recognizes achievement, leadership, and service by a graduating senior in business or engineering from one of the three Iowa Board of Regents' institutions.
Owusu says he was thrilled when he heard the news that he had won the award. "You never know how you compare to the rest of the applicant pool when you apply for scholarships, so this was a nice surprise," he says.
Owusu decided to study computer engineering because he wanted to join a challenging field and always had an interest in computers and technology. "I was particularly interested in computer engineering because it has a strong focus on both hardware and software concepts and is applicable to variety of industries," Owusu says.
What he likes most about the computer engineering program at Iowa State is the hands-on experiences he gets."I learn the most from hands-on experiences so I really like that many of the courses have lab and project components," he says.
But succeeding in computer engineering hasn't always been easy for Owusu. "I had a tough time adjusting to the time management and organization demands during my first year," Owusu says. "I was able to improve those skills with guidance of mentors."
Owusu overcame the early challenges of his college career, and has now had two internships. His first internship was at Monsanto in Ankeny, Iowa, in 2007.
"I worked on an application that allows crop breeding researchers to monitor and control the various stages of a crop DNA fingerprinting process," he says. "In addition to software development, I spent time becoming familiar with the lab information management systems and the crop breeding processes."
More recently, Owusu interned in a quality assurance engineering role at Adobe with its InDesign group in Seattle, Washington, in the summer of 2009.
"My main task for the summer was to develop a mobile application for the hosted service my group developed," he says. "I was involved with all phases of design for the mobile application, including user experience design, software development, and software testing. This was a great learning experience for me because I was exposed to the aggressive scheduling and task management demands of collaborating on large software projects."
Owusu hopes to one day have in a job where he can work on technical problems that have a great impact on society. "I aspire to advance research on technologies that can be easily adopted by developing countries," Owusu says.
Currently, Owusu doesn't know what he will do after he graduates, but he is keeping his options open by applying to graduate schools and looking for a full-time engineering position.
-30-
Contact:
Dana McCullough, communications specialist, (319) 377-9839, ext. 317, schmidtd@iastate.edu