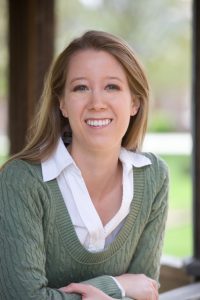 The College of Engineering has named Diane Brown, a senior in chemical engineering, as the student marshal who will lead the engineering graduating class into Iowa State's undergraduate commencement ceremony on Saturday, May 8. She was selected from nominees submitted by each of the departments in the college.
Throughout her career at Iowa State, Brown has taken advantage of many opportunities to enhance her learning experience. These include several undergraduate research experiences, such as a freshman honors project on catalysts for biofuels and an honors research project on alkaloid extraction and purification from hairy root cultures. She also designed a soybean biodiesel experiment for an undergraduate lab course. In addition, Brown has had summer work experiences at General Mills International and Honeywell.
As a World Food Prize Borlaug-Ruan International Intern in 2006, Brown conducted biotechnology experiments at the International Maize and Wheat Improvement Center in El Batan, Mexico. She presented her work at the World Food Prize Symposium Youth Institute and also received the 2007 Ahmanson Award, which recognizes an intern who has shown the most commitment to increasing awareness of world food security issues.
Brown has been an active participant in a number of student groups and on departmental chair and faculty search committees. She has served as vice president and philanthropy chair of Alpha Sigma Kappa: Women in Technical Studies and was a peer mentor for the Engineering Leadership Program.
Brown has been awarded a National Science Foundation Graduate Fellowship and plans to pursue her PhD in chemical engineering at the University of Texas, Austin.
Other nominees and the departments who nominated them are Justine Bormann (aerospace engineering), Mark Brayton (mechanical engineering), Scott Groh (industrial manufacturing systems engineering), Douglas Hartwell (civil, construction, and environmental engineering), Alyson Lieser (materials science engineering), Daniel Murray (agricultural and biosystems engineering), and Karl Peterson (electrical and computer engineering).
Bormann, who is graduating with distinction with her BS in aerospace engineering, has accepted a systems engineering position with Goodrich Corporation in Phoenix, Arizona. With study abroad experiences at Brunel University in London, England, and the Technical University of Delft in the Netherlands, Bormann has demonstrated her leadership skills in promoting international learning opportunities to her peers. She has given presentations to hundreds of students over the past three years and has served as a student advisor to the Society of International Engineers. Other leadership activities have included serving as cochair of the 2009 College of Engineering Career Fair, seminar leader for Freshman Honors, outreach cochair for the Society of Women Engineers, and student role model for the engineering outreach program of Women in Science and Engineering.
Brayton is completing his degree in mechanical engineering with a minor in Spanish. While making the dean's list throughout his college career, he has enhanced his learning experiences with internships at Sauer-Danfoss, Honeywell Federal Manufacturing and Technologies, and Procter & Gamble. In his first year at Iowa State, he was selected to Freshman Leaders in Engineering and this past year has been a peer mentor for a mechanical engineering learning team where he has guided 10–15 freshmen through the rigors of being a first-year engineering student. Brayton has also served as an undergraduate teacher's assistant for three mechanical engineering classes. He has accepted a position with Procter & Gamble following his graduation.
Groh is earning a bachelor's degree in industrial engineering and master's degree in business administration. This past fall he received first place in both the MBA case competition and the industrial engineering senior design project. Throughout his college career, Groh has been a leader. He served as president of the Iowa State chapter of Phi Delta Theta fraternity, director of operations for the Dance Marathon, and president of the MBA association. He also was a cofounder of the Iowa State Sales Engineering Club, which now maintains a roster of more than 80 members. With a passion for entrepreneurship, Groh has started three small businesses, and he's had four internships. On one of his internships, he put together two projects that helped save the company around $1.4 million.
Hartwell, who is earning his degree in civil engineering, received the Iowa Section of the American Society of Civil Engineer's (ASCE) Outstanding Senior Award in recognition of his leadership in ASCE's student chapter and the ASCE steel bridge team. The bridge team placed 10th at the national bridge competition in 2007–2008. Hartwell has developed and used his leadership skills throughout his four years at Iowa State. He served as peer mentor for the department's learning community for three years, and he led the effort to conceptualize and hold the ASCE/department's annual ping-pong tournament. As a member of Tau Beta Pi, he has been involved in helping new candidates through the initiation process.
Lieser is earning her degree in materials engineering with an emphasis in metallic-polymeric materials. She plans to pursue a PhD beginning next fall. Lieser developed her interest in research following a summer internship with Alcoa where she worked in the metallurgical and quality assurance department. Returning to Iowa State, she joined Thomas McGee's group as an undergraduate research assistant. Her research at Iowa State led to her selection for an international internship in Germany. Lieser has been an active member of the department's award-winning student club, served as secretary of the Iowa State Triathlon Club, and served as webmaster for the Iowa State AIDS Walk. During the 2009–2010 academic year, she has served as the student representative for the MSE Undergraduate Curriculum Committee.
Murray, who is earning his degree in agricultural engineering, has been a member of the Iowa State cross country and track and field teams throughout his college career. He earned Academic All-Big 12 First-Team honors in 2009 and 2010. Murray is a member of the National Society of Collegiate Scholars and has been inducted into the Phi Kappa Phi, Alpha Epsilon, Alpha Zeta, and Gamma Sigma Delta honor societies.
Peterson is graduating in electrical engineering with a second major in environmental studies. He has participated in research efforts throughout his undergraduate career and had internships with Hitachi Global Storage Technologies and Texas Instruments. He has also been very active on Iowa State's solar car team and in Engineers for a Sustainable World (ESW). Through ESW he joined a collaborative research team with students from the Universidade Federal de Vicosa (UFV) in Brazil. The goal was to develop a quantitative description of several renewable energy systems proposed for implementation at UFV. Peterson has been awarded a National Science Foundation Graduate Fellowship and plans to pursue his PhD at Georgia Tech University next fall.