David Prater and Erica Velasco took different paths on their academic and international journeys, but they ended up with the same outcome: being well-prepared for the next step in their adventures.
The two engineering students, who studied abroad as part of the Languages and Cultures for Professions (LCP) Program, were featured in a recent Link newsletter from the College of Liberal Arts & Sciences.
LCP, a unique program in the Department of World Languages and Cultures, has made graduates more competitive in the work force. The program began in 2002 to integrate languages and cultures with professional courses for engineering students at ISU, and in following years business students also began to participate.  LCP offers courses through Liberal Arts and Sciences in Chinese, French, German, Russian, and Spanish that meet the demands of professionals in a global marketplace.
Chad Gasta, LCP program director, said the uniqueness of the program is its focus not only on language and culture but also on professional areas that transpire through both coursework and experiential learning such as study abroad and international internships.
"All LCP graduates have either studied abroad for a period of at least six weeks and/or completed an international internship in the target language with a leading company," he said. "Employers value the 'hands-on' experience that LCP majors have gathered during global internships in a second language and during study abroad."
Due to the program's success, it may soon expand to other academic areas on campus.
"Interest in the program remains high, and we are now beginning to receive requests for an expansion of the program into the sciences, agriculture and life sciences," Gasta said. "This interest testifies to the strength of the program."
LCP was founded by Mark Rectanus, now chair of World Languages and Cultures. As its popularity has grown, so has its support. Liberal Arts and Sciences alum Donald Soults (B.S. statistics '61, Ph.D. statistics '68) funded a new LCP program coordinator position, held by Nathan Henceroth. Soults learned from his international business experiences how important it is for professionals to gain knowledge about languages and cultures as part of their global skill set.
The following stories highlight two engineering students' LCP experiences.
David Prater: 'It all started with German 101'
Thinking it would be "fun" to take a class from an ISU lecturer who is a family friend, David Prater studied German 101 and 102 during his freshman year. Little did he know that those entry-level courses would lead to a second major, a study abroad trip, an international internship and graduate school.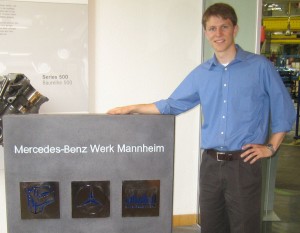 Prater first considered his German classes to be a break from the math and science of his primary major, mechanical engineering. But he also knew Germany's impressive reputation with engineering, particularly precision engineering.
As Prater progressed with the language and declared LCP German as a second major, he set forth with plans to travel abroad for a year. Mannheim, Germany, became Prater's home away from home from August 2007 to June 2008. During the first half of his trip, he took classes in Mannheim. The courses further prepared him for an internship during the second half of his trip.
At Mercedes-Benz, Prater used his engineering skills to research failure identification and avoidance for the company's truck engine factory. He also had plenty of opportunities to practice his German language skills as all of his classes and the internship were completely in German.
Back in the United States, the experience overseas led to more opportunities. "The internship opened all kinds of doors," Prater said. "Recruiters paid attention to me with that internship on my resume."
A professor in ISU's Virtual Reality Applications Center also took notice. After Prater spoke to an ISU group about his experiences abroad, the professor offered him a graduate assistantship following his December 2009 graduation.
Prater is now studying Human Computer Interaction. He hopes to study abroad in Germany again, this time as a graduate student.
Erica Velasco: Two majors in four years
Many of Erica Velasco's Bolivian relatives speak Spanish, and she always wanted to speak with them in their native language. After entering the LCP program in her freshman year, Velasco now has a good grasp on the language and is set to graduate in four years with two majors: civil engineering and Spanish.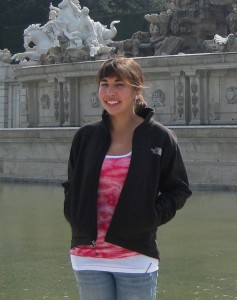 Velasco said even with her high-level engineering courses, she is still able to graduate on time in May 2011. She takes about one LCP class per semester, which she said allows her to retain the language better over time.
Through the LCP program, Velasco studied abroad in Spain from January through May 2009. She interned for a civil engineering firm where she translated dam and bridge inspection information from English to Spanish.
Even with a semester overseas, her four-year plan is on track. "I took a semester off from engineering to study abroad in Spain, but it shows that I'm dedicated to two areas and that I'm working toward a common goal to put them both together," she said.
After graduation, Velasco hopes to find a job where she can use both her engineering and Spanish degrees. She also wants to return to Spain, particularly to the area where her Bolivian ancestors once lived.
Now that she has become more fluent in Spanish, Velasco is able to communicate with her Bolivian relatives. Her dad and sister are now learning the language from her as well.
From a story by Laura Engelson, College of Liberal Arts and Sciences Communications Office, that appeared in the Spring 2010 "Link" newsletter.