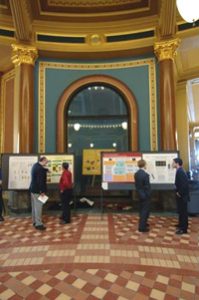 From developing a novel nanostructure for solar cells to deciphering the symbolism in West African textiles, 20 Iowa State University undergraduates will have plenty to discuss when they present their research to legislators and others during the fifth annual "Research in the Capitol." The event will be from 11:30 a.m. to 1:30 p.m. Thursday, March 25, in the rotunda of the State Capitol building in Des Moines.
More than 60 undergraduate students from Iowa's three Regent Universities (Iowa State, the University of Iowa and the University of Northern Iowa) will display their research posters and describe their projects. The event highlights the importance of research to the undergraduate learning experience.
At Iowa State, participation is open to all undergraduate students. The event is coordinated by the University Honors Program.
The Iowa State students who will present their work at the capitol, their hometowns, majors, research projects and research mentors are:
Samuel Bird, Gilbert, global resource systems and economics, "Study in Development: Micro-credit to Marketing," mentor Robert Mazur, associate professor of sociology
Jennifer Blaser, Bettendorf, microbiology, "Cocaine Esterase: A Promising Therapeutic Agent for the Treatment of Acute Cocaine Exposure," mentor Benedict Lucchesi, University of Michigan
Diane Brown, Des Moines, chemical engineering, "Alkaloid Extraction and Purification from Catharanthus roseus Hairy Root Tissue," mentors Jacqueline Shanks, professor of chemical and biological engineering and Guy Sander, postdoctoral research associate
Ximena Cibils-Stewart, Montevideo, Uruguay, biology and entomology, "Assessing Pollination of Muskmelon (Cucumis melo) in Iowa," mentor Mark Gleason, professor of plant pathology
Lindsey Currie, Schaller, dietetics, "Maternal Omega-3 Fatty Acid Intake on Fetal Status," mentor Christina Campbell, associate professor of food science and human nutrition
Beth Kenkel, Council Bluffs, genetics, "Confirming NF-kB Target Motifs in Genes Responding Early to Salmonella Infection in Swine and Mouse," mentor Christopher Tuggle, professor of animal science
Melissa Knight, Sioux City, psychology and criminal justice, "'Surely you can pick him out of the lineup!': The Effects of Pre-Admonition Suggestions on Lineup Instructions," mentor
Deah Quinlivan, graduate student, psychology
Michael Kostboth, Gettysburg, S.D., political science, "Contractual Failures in the Coast Guard's Deepwater Program," mentor Matthew Potoski, associate professor of political science
Rachel Kreis, Waterloo, horticulture, "New Integrated Pest Management Systems for Apple Orchards in the Midwest," mentor Mark Gleason, professor of plant pathology
Carin Lightner, Des Moines, chemical engineering, "The Development of a Novel Zinc Oxide Nanostructure for Use in Dye Sensitized Solar Cells," mentor Liang Dong, assistant professor of electrical and computer engineering, and Haifeng Yang, graduate assistant
Matthew Lockner, Lohrville, physics, "D0 Meson Decay Vertex Reconstruction Simulations in the PHENIX Silicon Vertex Detector," mentor Craig Ogilvie, professor of physics and astronomy
Andy Mair, Eagan, Minn., meteorology, "High-Resolution RUC CAPE Values and Their Relationship to Right Turning Supercells," mentor William Gallus, professor of geologic and atmospheric sciences
Paige McQueeney, Asbury, marketing and adverting, "Format Effects in Mental Account of Windfalls," mentor Laura Smarandescu, assistant professor of marketing
Joel Mendez, Aurora, Ill., community and regional planning, "Reverse Commuting: Its Effect on the Deterioration Rate of the Chicago Metropolitan Area Highway System," mentor Carlton Basmajian, assistant professor of community and regional planning
Anna Mullen, Davenport, anthropology and history, "Under Wraps: Symbolism in West African Textiles," mentor Sara Marcketti, assistant professor of apparel, educational studies and hospitality management
Shalome Musignac-Jordan, San Juan, Puerto Rico, child, adult, and family services and sociology, "Teenage Mother's Psychological Well-being as a Result of a Male Partner," mentor
Kere Hughes-Belding, assistant professor of human development and family studies
Yasaira Rodriguez, Gurabo, Puerto Rico, microbiology, "Identifying Genes and Single Nucleotide Polymorphisms Associated with Salmonella Infection Traits to Improve Pig Genetic Resistance and Pork Food Safety," mentor Christopher Tuggle, professor of animal science
Chris Thomson, Centerville, S.D., animal science/pre-veterinary, "International Agriculture Associations of Canine Distemper Through Vaccination or Specific Genetic Line," mentor Matthew Ellinwood, assistant professor of animal science
Justin Wittrock, Algona, meteorology, "Viability of Weather Dissemination Via Social Network Technologies," mentors William Gutowski, professor of geologic and atmospheric sciences, and Kelvin K. Droegemeier and Somer A. Erickson, University of Oklahoma.
Emily Zimmerman, Marinette, Wis., biology and global resource systems, "Interactions of Soil Type, Microorganism Community, and Nutrient Level," mentor W. Stan Harpole, assistant professor of ecology, evolution and organismal biology