Jennifer O'Donnell, assistant professor of chemical and biological engineering at Iowa State University, has been awarded $750,000 over five years as part of the U.S.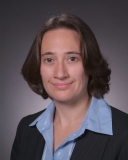 Department of Energy's new Early Career Research Program.
O'Donnell's research project was one of 69 funded through the new program, which is designed to bolster the nation's scientific workforce by providing support to exceptional researchers during their crucial early career years. The total funding of $85 million originated from the American Recovery and Reinvestment Act.
"Five years to get my research program going here, and the guarantee of two graduate students for that five years, is just amazing," O'Donnell said. "I couldn't be happier."
To be eligible for an award, a researcher must be an untenured, tenure-track assistant professor at a U.S. academic institution or a full-time employee at a DOE national laboratory. O'Donnell is in her second year at Iowa State.
Her research project, under the title "Templating of Liquid Crystal Microstructures by Reversible Addition Fragmentation Chain Transfer Polymerization," involves the design and synthesis of polymer nanoparticles with internal microstructures identical to those of liquid crystals.
Such nanoparticles, she explained, could be used for catalysis or for drug delivery, and even have implications for renewable energy. "We're looking at putting the internally structured nanoparticles into a larger microstructured domain for capturing solar energy," O'Donnell said.
O'Donnell, who did her postdoctoral work at the prestigious Key Centre for Polymer Colloids at the University of Sydney (in Australia), describes the work as a "new direction" for her and her research group.
"We actually started the work this summer, and I was really incredibly lucky," she said. "I have an undergraduate student, Todd Thorson (ChemE), who has been phenomenal in the lab. He collected all the preliminary data for this project, so that helped a lot."
By the end of the five-year project, O'Donnell said, "we're really looking to have some chemically and mechanically robust internally structured nanoparticles that we can try loading with a drug, or that we can perform a reaction in and study the confinement effects on the reaction mechanism."
O'Donnell is also a research associate with the DOE's Ames Laboratory on the Iowa State campus. She earned her BS in chemical engineering from Bucknell University in 2001 and a PhD in chemical engineering from the University of Delaware in 2007.
Contacts:
Jennifer O'Donnell, Chemical and Biological Engineering, (515) 294-1891, jodonnll@iastate.edu
Eric Dieterle, College of Engineering, (515) 294-4881, dieterle@iastate.edu