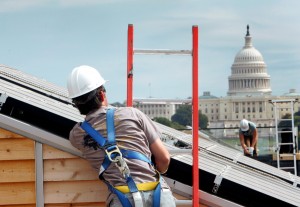 Interlock House, the Iowa State entry into the Department of Energy's Solar Decathlon, made quite a name for itself while on display in Washington, D. C. this past year. Chosen as one of only twenty entries worldwide, Interlock House ended the competition with a twelfth-place finish, one the Iowa State team is very proud of, especially as this was the university's first entry.
The Department of Energy selected twenty teams to set up their houses for competition on the National Mall in October of 2009. Each entry had to be assembled at its respective university and taken apart to be hauled by truck to Washington, D. C. On arrival, the houses were rebuilt at the Solar Village before competition and public tours began.
The entries were graded on energy efficiency in ten different categories, including livability and comfort. Each house was equipped with the latest energy-efficient appliances and home entertainment systems, and teams had to prove their house could withstand normal household activities, including laundry, meal preparation, and movie night.
Iowa State's 75-member team with 11 varied majors created the concept for Interlock House that guided their design—a house that linked with the outdoors, an existing neighborhood, and itself as a coordinated and integrated system. Their target market was the recently retired who want to downsize but still maintain an individual residence. The house was designed to exist on a lot along with a larger home and feed power into the grid or the host house.
That "give back" feature enabled Interlock House to place sixth among all the entries in net metering (producing more energy than it consumed). The team took fifth place in engineering, fourth in communications, and third in marketability/livability/buildability.
The Iowa Department of Natural Resources has prepared a permanent foundation for the Interlock House at Honey Creek Resort State Park, and an open house will be held in spring of 2010. The house will accommodate numerous outdoor and environmental activities for visitors to the park once installation is completed.