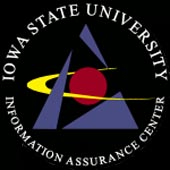 AMES, Iowa — In an increasingly high tech society, it is imperative to have individuals highly skilled in information assurance to keep up with the growing number of attacks on computer security. And Iowa State University is helping to train those professionals through the Scholarships for Service (SFS) program from the National Science Foundation (NSF) that provides 24 full-ride scholarships for students to receive a master's degree in information assurance.
The NSF Scholarships for Service program distributes funds through scholarships in educating information assurance and computer security professionals. The funding to ISU includes all tuition, room, board, books and fees, as well as a $12,000 annual stipend.
Five students were admitted into Iowa State's Cyber Corp Scholarship program this fall. The scholarship recipients have varying backgrounds in computer engineering, mathematics and computer science.
UPDATE: On September 29th, 2009, Iowa Public Radio's Dean Borg did a story about the Information Assurance Center.
Listen: [audio:IPR_092909_ISU-Cyber-Warfare.mp3]