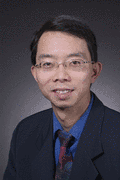 Ames, Iowa – Figuring out how to meet the computing challenges of the future is a tough task for engineers, and it requires researching and developing solutions no one has tried before.
One Iowa State computer engineer, Associate Professor Chris Chu, is conducting innovative research to improve integrated circuit (IC) designs used in computers and other electronic devices. Chu's research could result in increasing performance and decreasing the cost of circuits used in everything from computers and MP3 players to video game consoles and digital cameras. It also could minimize turnaround time for engineers during the design process.
Chu's research is supported by a 2009 IBM Faculty Award he received this summer.
Chu says because of the prevalence of intellectual property reuse (aka using old designs in creating new ones) and hierarchical computer design methodology in recent years, there is a need for better layout tools for mixed-size IC designs. He says the traditional layout algorithms perform very poorly, so the main goal of his research is to develop an efficient and high-quality placement tool targeting mixed-size IC design.
"The main idea is to improve a state-of-the-art analytical placer with the guidance of fixed-outline floorplanning at the full-chip level," Chu says. "Effective integration of a fixed-outline floorplanner with an analytical placer has never been done before."
If successful, Chu's design will improve circuit performance and power, decrease circuit size, and reduce turnaround time for engineers designing new circuits, thus reducing the number of designers needed on projects and creating more affordable electronics for consumers.
Chu's recent IBM Faculty Award will help him support graduate students to participate in this research project. The students include computer engineering PhD students Zijun Yan and Yanheng Zhang.
The IBM Faculty Awards program is an annual worldwide competitive cash awards program that fosters collaboration between researchers at leading universities and those in IBM research, development, and services organizations. It also promotes courseware and curriculum innovation to stimulate growth in disciplines and geographies that are strategic to IBM. Awardees are nominated by IBM employees.
Contacts:
Chris Chu, associate professor, (515) 294-3490, cnchu@iastate.edu
Dana McCullough, communication specialist, (319) 377-9839, ext. 317,schmidtd@iastate.edu